Senior officials hold meeting on economic issues as U.S. sanctions loom
July 7, 2018 - 20:44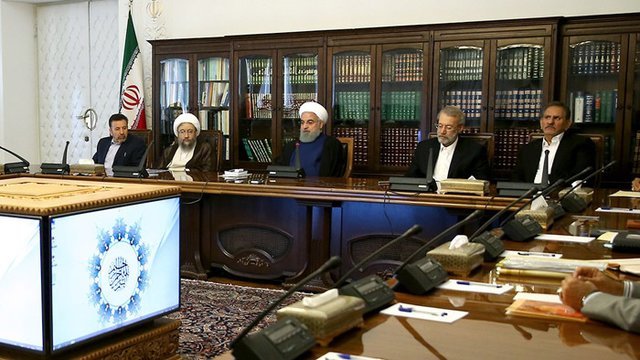 TEHRAN – The Supreme Council for Economic Coordination held its fourth meeting on Saturday at the seat of the president to mull ways to counter the looming U.S. sanctions against Iran.
The council was headed by President Hassan Rouhani, Parliament speaker Ali Larijani and Judiciary chief Sadeq Amoli Larijani.
The president's economic team including Budget and Planning Organization chief Mohammad Baqer Nobakht; central bank governor Valiollah Seif; Economy Minister Masoud Karbasian; Industry and Trade Minister Mohammad Shariatmadari; economic advisor to president Mohammad Nehavandian; First Vice President Es'haq Jahangiri; as well as Parliament Economic Committee Chairman Mohammad Reza Pour-Ebrahimi; Parliament Budget and Planning Committee Chairman Gholamreza Tajgardoon; Parliamentary Center for Research Studies Kazem Jalali; National Prosecutor Mohammad Jafar Montazeri; and Deputy Judiciary Chief Gholamhossein Mohseni Eje'i were present at the Saturday meeting.
Since Donald Trump unilaterally exited the U.S. from the multilateral nuclear agreement on May 8 and announced that his administration will re-impose sanctions against Iran in two stages, first in August and then in November, a number of foreign companies and banks have stopped cooperation with Iran.
Trump has also asked other countries to stop their purchases of the Iranian oil by November otherwise they face secondary sanctions.

Es'haq Jahangiri announced on June 24 that the U.S. has started an "economic war" against Iran.
Even before Trump officially announce U.S. exit from the nuclear deal the prices of gold coin and foreign currencies started rocketing at the black market.
Iranian officials have vowed to disappoint the U.S. through reliance on local capacities.
Under the nuclear agreement, officially called the Joint Comprehensive Plan of Action (JCPOA) Iran is obliged to put limits on its nuclear activities in exchange for termination of economic and financial sanctions. However, with the U.S. pullout from the agreement, the destiny of the JCPOA is in jeopardy. Iran has announced that if it cannot enjoy the economic benefits of the JCPOA there is no justification to abide by it.
To keep Iran in the nuclear agreement, the European Union, especially its three heavyweight members (Germany, France, and Britain), on Wednesday presented an economic package to Iran, though Iran has said the package falls short of Iran's expectations.
Talking in the meeting on Saturday, Rouhani said European countries have the "political will" to continue economic cooperation with Iran within the framework of the nuclear agreement but they must take "practical decisions" in this regard.
The Joint Commission of the JCPOA held first meeting at the foreign ministerial level in Vienna on Friday since the U.S. walked out of the agreement.
European Union foreign policy chief Federica Mogherini announced that Iran and the remaining parties to the 2015 nuclear agreement had agreed to continue negotiations, including on economic measures, over how to save the deal.
NA/PA