Ayatollah Khamenei says 'deal of century' won't come true
July 16, 2018 - 21:17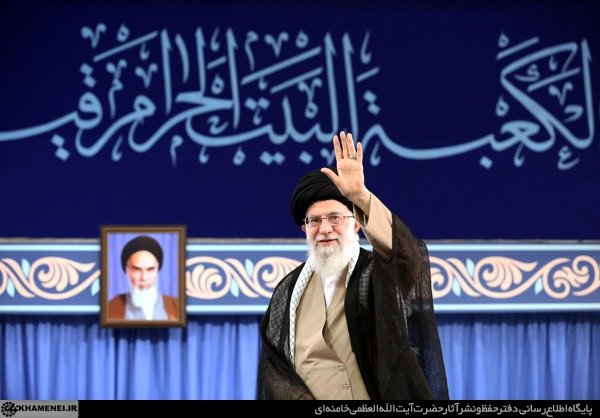 TEHRAN - Leader of the Islamic Revolution Ayatollah Seyyed Ali Khamenei said on Monday that "deal of the century" for the Palestinian territories will not come true.
According to an Israeli intelligence website, U.S. President Donald Trump has proposed to establish a Palestinian state with limited sovereignty over around half of the West Bank and Abu Dis as its capital.
The Leader said this "devil policy" is doomed to failure.
"The Americans have named their devil policy on Palestine 'the deal of the century' but they should know that, by divine grace, this 'deal of the century' will never materialize," Ayatollah Khamenei said during a meeting with organizers and officials of the Hajj Organization.
"To the dismay of the enemies, the Palestinian issue will not be forgotten and al-Quds will remain the Palestinian capital," the Leader said, according to Press TV.
Ayatollah Khamenei said the Palestinians will stand against this policy and all the Muslims will support them.
The Leader added though certain Muslim governments, which do not believe in Islam and have become "ready-to-die followers of the Americans out of foolishness", the Islamic Ummah including the Palestinians will win over the enemies and will "see that day when the fake Zionist regime" will vanish.
He also described "unity" as the most essential need of the world of Islam, saying the coming Hajj season should become an occasion to consolidate unity among Muslims.
Noting that Hajj is a symbol of "spirituality and politics", Ayatollah Khamenei said, "A real Hajj is the one that includes the disavowal of the infidels on the one hand and paving the ground for unity and empathy among Muslims on the other."
He added that Kaaba, Great Mosque of Mecca and Al-Masjid an-Nabawi belong to all Muslims and not just to those who are ruling that country.
Leader urges establishment of 'fact-finding committee' to probe Mina incident
Ayatollah Khamenei also pointed to the Mina incident and said that the issue must be investigated and the victims' rights should be restored.
In the stampede in Mina on September 24, 2015, 464 Iranian pilgrims lost their lives. The incident happened as families were preparing to receive their dear ones after a month.
"This issue must not be forgotten. And responsible bodies should follow this issue through different ways especially international bodies."
The Leader suggested the establishment of a "fact-finding committee" with the involvement of Iran to cast light on the core of the issue because Saudi Arabia as a country responsible for the "safety and security" of the pilgrims did not do its duties and even did not "blood money" to the families of victims.
NA/PA