Regional people won't allow 'deal of century' to be realized: Shamkhani
December 30, 2018 - 21:0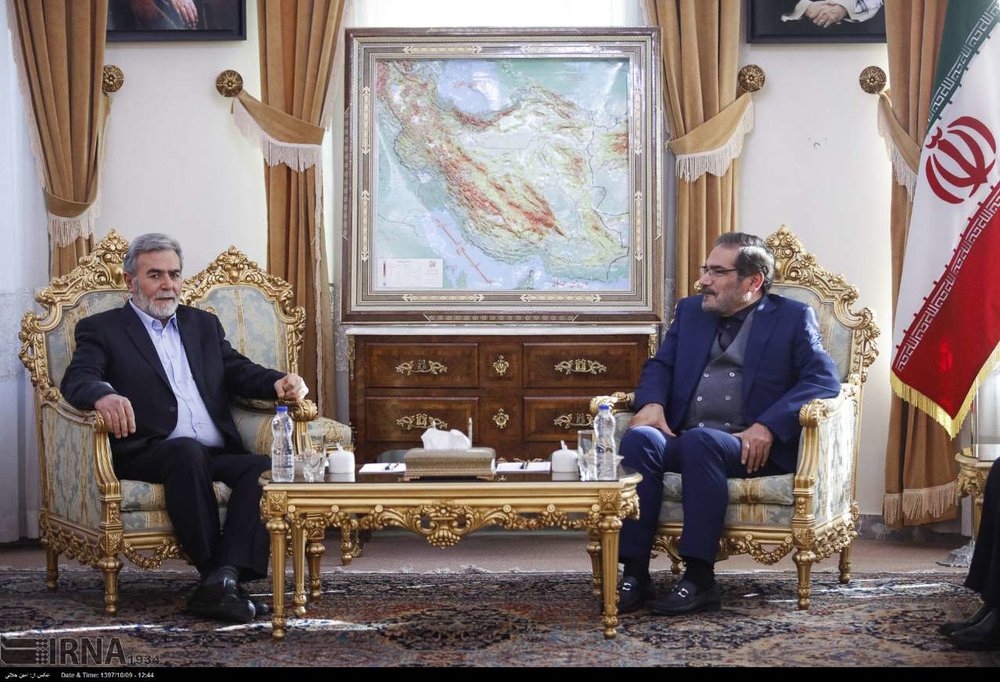 TEHRAN - Ali Shamkhani, the secretary of the Supreme National Security Council, said on Sunday that the vigilant people in regional countries will prevent a realization of "deal of the century".
U.S. President Donald Trump has proposed to establish a Palestinian state with limited sovereignty over around half of the West Bank and Abu Dis as its capital and has called his plan "deal of century".
During a meeting with Ziad al-Nakhala, secretary general of the Islamic Jihad movement, Shamkhani said that "deal of the century" would be a serious hit to Palestinians.
The Zionist regime's media outlets are making efforts to hide crimes against the Palestinians by brutalities of Takfiri groups.
He noted that the resistance front is more successful than ever and will speed up the process of realizing the Palestinians' wish to liberate the occupied lands.
The security chief also said that supporting the resistance front is a principled policy of Iran.
"From the outset of the Islamic Republic of Iran's establishment, we have been beside the Palestinian resilient and oppressed people and will continue to do so until the resistance movement gains complete victory," he said.
Leader of the Islamic Revolution Ayatollah Ali Khamenei said in July that "deal of the century" for the Palestinian territories will not come true.
"The Americans have named their devil policy on Palestine 'deal of the century' but they should know that, by divine grace, this 'deal of the century' will never materialize," Ayatollah Khamenei said.
'Iran is true supporter of Palestinian cause'
For his part, Nakhala said that Iran is a true supporter of the Palestinian cause.
He also said that the resistance front has strengthened its capacities against the aggressors.
Pointing to efforts being made by certain Western and Arab countries to defeat the resistance front, he said, "The Palestinian people will continue their glorious path more determinedly to achieve victory."
NA/PA