Iran to continue backing Palestine, Zarif says
December 29, 2018 - 20:14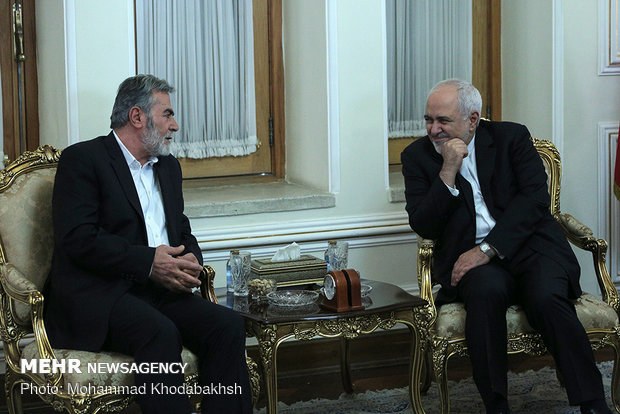 TEHRAN – Iranian Foreign Minister Mohammad Javad Zarif said on Saturday that Iran will stand beside the Palestinian people and will continue supporting the Palestinian cause.
"The Islamic Republic of Iran will remain on the side of the Palestinian people and will support the Palestinian cause," Zarif said during a meeting with Ziad al-Nakhala, the secretary general of the Islamic Jihad movement.
Zarif said it is one of the principles of Iran's foreign policy to support Palestine.
For his part, Nakhala said the resistance front has boosted its capacities to counter the aggressors.
Also, during a meeting with Mahmoud al-Zahar, the co-founder of Hamas and a member of the Hamas leadership in Gaza, on December 23, Zarif said supporting Palestine is a principled policy of Iran.
"Supporting Palestine is one of the principled policies of the Islamic Republic and we hope that certain Islamic governments which are dependent on the U.S. and Zionists' support would return to the world of Islam and would realize that the Zionists are not a trusted friend and partner," he said.
Zarif also suggested that the Islamic world should support Palestine unitedly.
Zahar expressed hope that the Zionism project would end in failure through resistance by the Palestinians and support by the Islamic world.
NA/PA