Iran's Cultural Days open in Manila 
July 27, 2018 - 18:23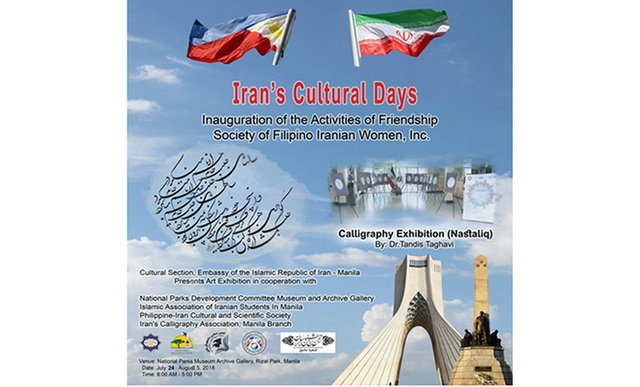 TEHRAN – Iran's Cultural Days, a program offering a variety of art and cultural programs, opened in different locations across the Filipino capital of Manila on Wednesday.
The program was launched by organizing an exhibition of Persian calligraphy by Tandis Taqavi, Iran's cultural office in Manila announced on Friday.
Speaking at the opening ceremony of the exhibit, Iran's cultural attaché Mohammad Jafari-Malek said that the event will continue with an exhibition of photos in Rizal Park and film screening sessions at the Philippine Women's University, as well as live music concerts and painting exhibitions in several venues across the city.
The program has been organized in collaboration with the Philippine-Iran Women's Friendship Society as well as the National Parks Development Committee (NPDC) in Manila
NPDC Executive Director Penelope D. Belmonte also attended the opening ceremony.
The cultural festival has been organized to celebrate the establishment of the Friendship Society of Filipino Iranian Women.
Photo: A poster for Iran's Cultural Days in Manila
RM/MMS/YAW