SDSs 60 times above the safe levels haunting Sistan
August 15, 2018 - 10:22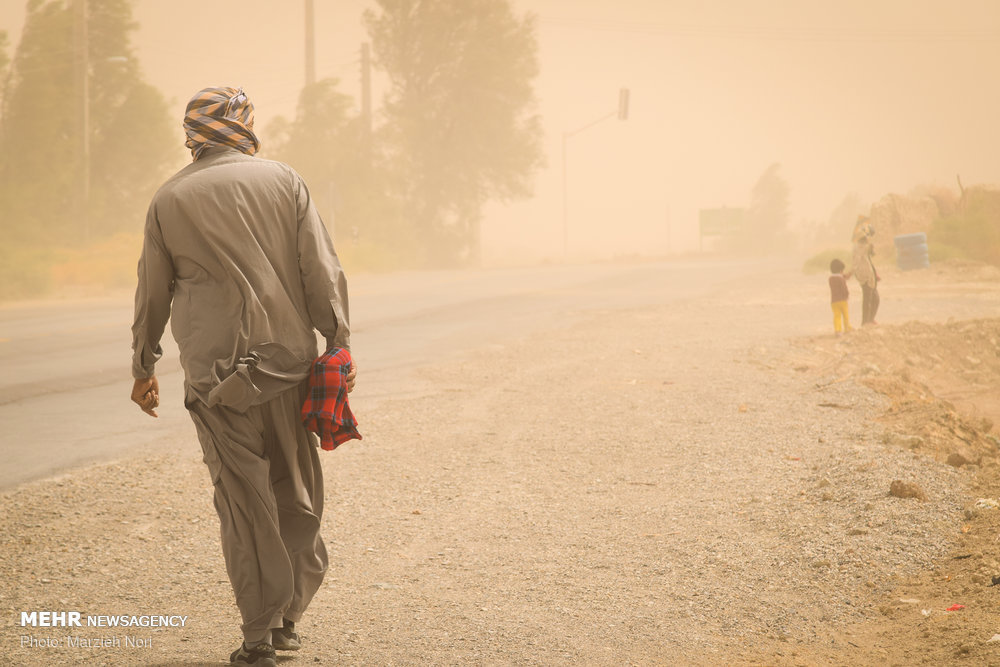 TEHRAN – Sand and dust storms (SDSs) reaching speeds up to 100 kilometers per hour, and particulate matters (PM) concentration peaking at 60 times above the safe levels, led to the closure of offices in Sistan, southeastern province of Sistan-Baluchestan, on Sunday, ISNA reported.
The level of particulate matters has reached 9,075 micrograms per cubic meter in the region, the report added.
Regarding the high rate of PM concentration causing great discomfort to the people in eastern part of the country, offices and business units have been closed down on August 12-13, in five cities of Sistan including Zabul, Hirmand, Hamoun, Zahak and Nimroz.
So far, some 541 residents have been injured due the severe SDSs in Sistan-Baluchestan province, Fars quoted, Hassan Nouri, deputy director for Iran Emergency medical services as saying on Tuesday.
Rasoul Rasheki Head of Sistan-Baluchestan Red Crescent Society announced on Tuesday that over the past three days some 40,700 masks were distributed among residents of 25 villages in the regions.
Earlier in August, an official with Sistan-Baluchestan provincial meteorological organization Reza Azadmanesh also said that while the standard level of particulate matters is 150 micrograms per cubic meter it has reached 1,852 micrograms per cubic meter in the region.
Sistan region, located north of Sistan-Baluchestan province, is frequently hit by sand and dust storms, as well as drought and even destructive floods.
FB/MQ/MG