SDSs shut down offices, schools in southeastern Iran
November 4, 2018 - 3:0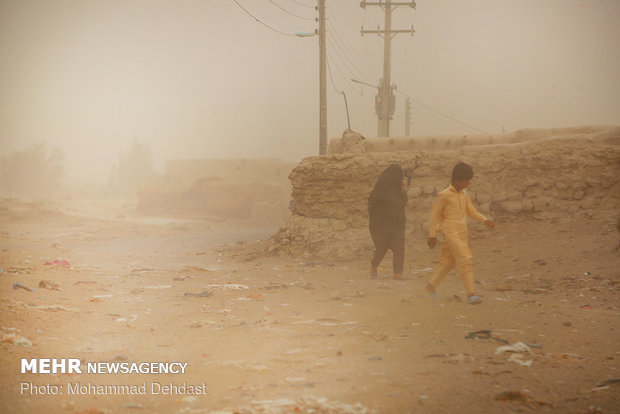 TEHRAN – Severe sand and dust storms (SDSs) hitting the southeastern province of Sistan-Baluchestan, has led to the closure of offices and schools in five cities on Saturday, head of Sistan-Baluchestan disaster mitigation and management organization has announced.
Storms reaching speeds up to 112 kilometers per hour led to particulate matter (PM) concentration heading for 6,262 micrograms, which is 42 times above the safe levels, IRNA quoted Abdolrahman Shahnavazi as saying.
He went on to explain that intensive SDSs and PM concentration exceeding the safe levels by 42 times, resulted in shutting down schools and offices at the northern cities of Nimrooz, Zahak, Zabol, Hirmand and Hamoon in Sistan region.
Although, it was Initially set that the working time of the offices to be delayed for two hours, due to the increasing concentration of PM and SDSs, all of the offices and schools announced to be closed down on the first day of the week.
In mid-August, it was announced that strong SDSs with as fast as 100 kilometers per hour speed have stricken Sistan-Baluchestan province for 19 times since the beginning of the current [Iranian calendar] year (March 21).
Moreover, regarding the high rate of PM concentration peaking at 60 times above the safe levels and causing great discomfort to the people in eastern part of the country, offices and business units have been closed down on August 12-13, in the aforesaid five cities forcing hundreds of people to refer to healthcare centers.
FB/MQ/MG