Rouhani: U.S. should quickly leave Syria in favor of peace
September 7, 2018 - 23:28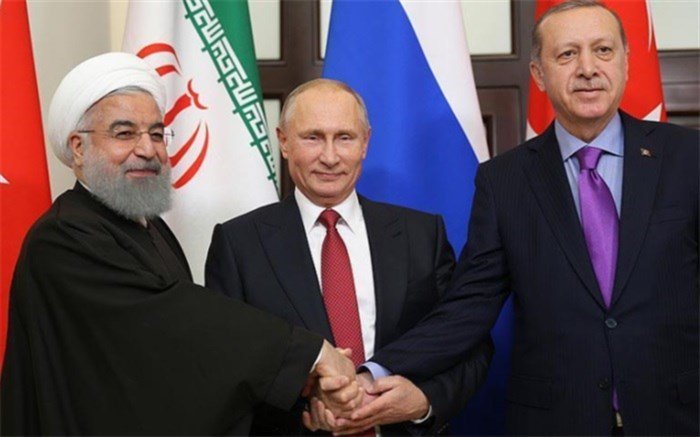 TEHRAN – President Hassan Rouhani said on Friday that the United States should leave Syria as soon as possible because its presence there has been detrimental to the a peace process in the country.
"It is absolutely clear that America is present in Syria illegally and is only fueling aggression and supporting the Apartheid Zionist regime [there]. Hardly any positive role can be expected (from the U.S.) in the Syrian (peace) process," Rouhani emphasized during a trilateral summit on Syria in Tehran with his Russian and Turkish counterparts, Vladimir Putin and Recep Tayyep Erdogan.
"[The U.S.] presence only exacerbates problems, and hampers the achievement of sustainable peace in Syria," Rouhani added.
The summit took place as the Syrian government is preparing an assault on the last stronghold of terrorists in northwest Idlib province.
Rouhani said that the civilian population in Idlib should not suffer during counter-terrorism operations.
"The only goal in Syria and the region can only be peace, but to achieve sustainable peace, a serious fight against terrorism is inevitable," the Iranian president noted.
Friday's talks marked the third time the leaders have come together to negotiate the Syrian conflict.
Putin: Terrorists in Idlib taking provocative moves to use chemical arms
During the meeting, Putin stated that terrorists in Idlib are engaged in provocative acts which involve chemical weapons.
"The remaining groups of extremists [in Syria] are currently concentrated in the de-escalation zone in the province of Idlib. Terrorists are making attempts to disrupt the ceasefire; moreover, they are carrying out and preparing various kinds of provocations, including using chemical weapons," Putin stated.
Idlib, home to some 3 million people, remains largely in the hands of terrorists. The area is controlled by a coalition of extremists, including al-Qaeda affiliate like Hayat Tahrir al-Sham (HTS).
Russia has urged Turkey to rid Idlib of the jihadists, which have launched attacks on the Russian Hmeimim airbase.
Erdogan, for his part, said that Ankara is "extremely annoyed" by the United States' support for Kurdish YPG in Syria.
Erdogan urged his counterparts at the summit to agree to a cease-fire. "There are many civilians in Idlib. We must be careful," he said. "If we can make a cease-fire here today, I believe that this will be one of the most important steps of the summit."
He added, "We don't want Idlib to be turned into a 'sea of blood'… we should find a reasonable solution to the Idlib issue."
He also noted that it is possible to relocate militants, who attack the Russian Hmeimim airbase, from Idlib province to other areas.
"We believe that we can try to remove these elements, which bother our Russian friends and pose a threat to Hmeimim, to more remote places," Erdogan said.
SP/PA