Iran will not sit silent if enemies continue hatching plots, General Baqeri warns
Military chief: Missile attack on terrorists shows accuracy and strategy
September 11, 2018 - 20:51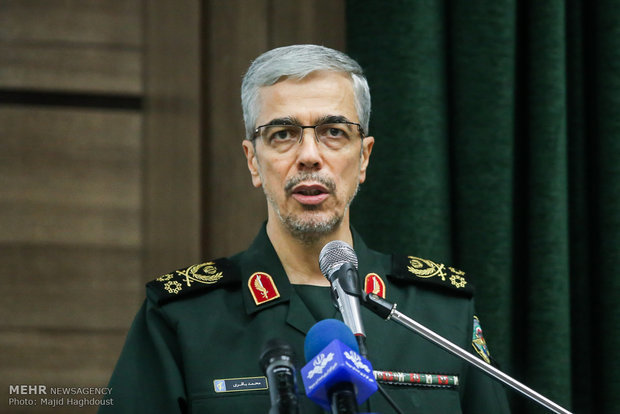 TEHRAN - Armed Forces Chief of Staff Mohammad Hossein Baqeri said on Tuesday that Iran's armed forces will not sit silent if enemies continue hatching plots.
His comments came as the Islamic Revolution Guards Corps on Saturday launched seven short-range surface-to-surface missiles on positions of a terrorist group in the Iraqi Kurdistan in retaliation for their attack on Iranian border guards in late July in which 11 IRGC forces lost their lives.
"What happened recently powerfully was not something small. Missile capability [of Iran] was just part of it. The major part was the show of power in design, coordination and strategy," Baqeri said.
He described the missile attack as Iran's "crushing response" to the terrorists.
The top general called on official in Baghdad and Erbil to either hand over terrorists to Iran or expel them. "Officials of the Kurdistan region and the Iraqi government should hand over terrorists to Iran and if they cannot do so, they should expel the terrorists."
In a statement on Sunday, the IRGC said it had targeted positions of a terrorist group in the Iraqi Kurdistan, warning the terrorists that their repeated evil acts will be faced with a more severe response.
"The sons of the Iranian nation in Sepah (IRGC) and other armed forces as well as intelligence and security bodies are determined to protect the borders of the Islamic Iran," the IRGC stated.
The IRGC added that its forces had targeted bases of the "filthy and criminal group" in retaliation for their evil acts.
Qassemi calls missile attack 'retaliatory'
Iranian Foreign Ministry spokesman Bahram Qassemi said on Tuesday that the missile attack on positions of terrorists in the Iraqi Kurdistan was "deterrent" and "retaliatory".
"Terrorists' moves made the armed forces of the Islamic Republic of Iran to take retaliatory and deterrent act," he said.
He added, "We hope that common borders in this volatile region will be the safest and most stable borders in the region."
However, he said Tehran will show no tolerance for vicious acts. "Undoubtedly, the Islamic Republic of Iran will have no leniency when it comes to its security."
NA/PA