India's decision to deport Rohingya men slammed by rights groups
October 7, 2018 - 8:28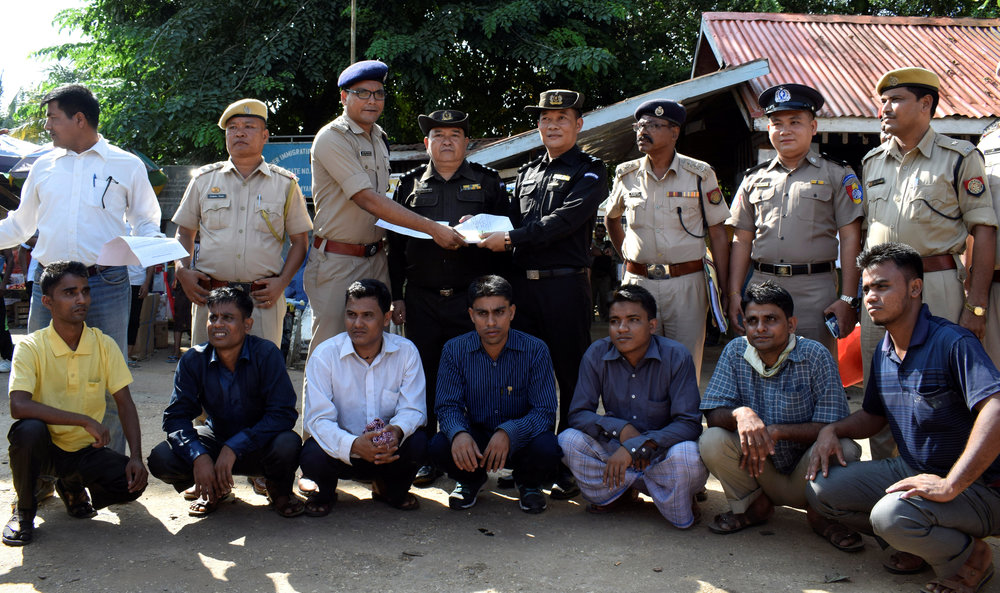 TEHRAN - Indian government's controversial decision to deport seven Rohingya men, backed by the country's apex court, has drawn sharp and widespread criticism from rights groups and activists.
India's Supreme Court on Thursday paved the way for deportation of Rohingya after rejecting the plea of prominent lawyer and activist Prashant Bhushan, who had argued that the deportees feared reprisal in their home country.
"Even the country of their origin has accepted them as its citizens," the court said, adding that it would not interfere with the government's decision.
The seven Rohingya men, arrested in 2012 for entering India illegally after fleeing the persecution in Myanmar, were sent to Manipur on Thursday, from where they will be handed over to Myanmar border guards.
Criticizing the government's decision, Amnesty India said it had been conducting "a relentless smear campaign" against the Rohingya community in India for over two years. "This decision sets a dangerous precedent for all asylum seekers and refugees in India," said Aakar Patel, an executive director of the watchdog, asking the government to work with the United Nations High Commissioner for Refugees (UNHCR) to honor its human rights commitments.
Human Rights Watch (HRW) also slammed the decision. "Forcing any Rohingya back to Myanmar now puts them at grave risk of oppression and abuse," Meenakshi Ganguly, the South Asia director of HRW, said in a statement. "The Indian government has disregarded its long tradition of protecting those seeking refuge within its borders," she added.
A UN human rights official said the forcible return of the Rohingya violates international law. "Given the ethnic identity of the men, this is a flagrant denial of their right to protection and could amount to refoulement," said Tendayi Achiume, the UN special rapporteur on racism.
"The Indian government has an international legal obligation to fully acknowledge the institutionalised discrimination, persecution, hate and gross human rights violations these people have faced in their country of origin and provide them the necessary protection," Achiume said in a statement.
UN secretary-general Antonio Guterres, who just concluded his maiden India visit, also expressed concern over India repatriating seven Rohingyas to Myanmar, his spokesperson Stephane Dujarric.
UN High Commissioner for Refugees (UNHCR), in a statement, said it "regrets that the agency did not receive a response to this request and was unable to secure access for a lawyer from a state legal service." "UNHCR continues to seek clarification from the authorities on the circumstances under which these individuals were returned to Myanmar," spokesperson Andrej Mahecic said in Geneva.
Bhushan, whose plea was turned down by the court, said the government should treat Rohingya as refugees and not as illegal migrants and have a representative of the UNHCR visit and talk to them so that they were not deported under duress.
An estimated 40,000 Rohingya, a mostly Muslim minority, live in India after having fled persecution in Buddhist-majority Myanmar over the years.
UN officials have described the Myanmar military's action against Rohingya as ethnic cleansing. In a report published in August, the agency called for Myanmar officials to face genocide charges over their campaign against Rohingyas.
The BJP government in India has described undocumented Rohingya immigrants as posing a national security threat and asked state governments last year to identify and deport them.
Pertinently, the UN chief, who was on his maiden visit to India last week, said he had never seen a community so discriminated in the world as Rohingyas, urging the Indian government to "help these people".
"What can India do? Support Bangladesh in helping these people because there is a huge humanitarian problem," he said on the sidelines of a seminar in New Delhi late on Tuesday. "Second, to put pressure on Myanmar, the military in Myanmar for reconciliation and create conditions for these people to go back. These people will not go back in present circumstances," the UN top official said.