By staff& agencies
Hezbollah  Legend's Mother, Imad Mughniyeh, Goes to rest
October 12, 2018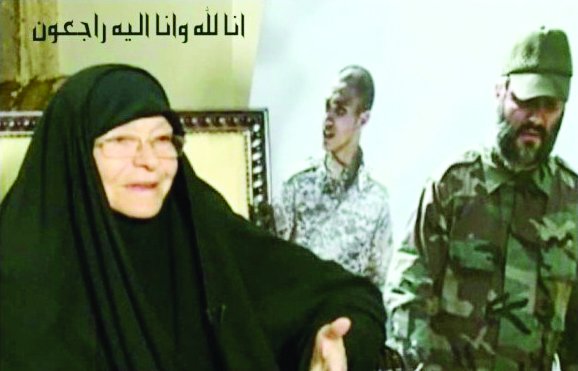 The mother of martyrs, who has been widely known for her patience and power, died Monday and laid to rest on Tuesday (October 9), near Hajj Radwan (Imad Mughniyeh)'s grave in the Rawdat al-Shahidain cemetery in Beirut's southern suburb, Dahiyeh.
Hajjeh Amina Salemeh is the mother of late Hezbollah senior commander who was assassinated in February 12, 2008 in a car bomb attack orchestrated by Israeli intelligence agency, Mossad.
Mughniyeh, whose nom de guerre was Radwan, was one of the main founders of Hezbollah in the 1980s. He has been described as "a brilliant military tactician and very elusive".
Hezbollah Secretary General, Seyed Hassan Nasrollah, often calls Hajj Radwan as the "Commander of the Two Victories," referring to victories achieved by the Lebanese resistance: liberation of Lebanon's south in 2000 and July war in 2006.
Hajje Amina Salemeh is not only the mother of Hajj Radwan. She is a mother of two other martyrs Fuad and Jihad Mughniyeh who were martyred among the ranks of Lebanese resistance against Israeli occupation. Salemeh is also the grandmother of Jihad Imad Mughniyeh, son of Hajj Radwan who was martyred during an Israeli raid on Syria's Quneitra in January 2015.
Gen. Soleimani offers condolences
Iranian Quds Force's Commander Ghasem Soleimani has expressed sympathy and condolences to the Secretary General of Hezbollah Seyed Hassan Nasrollah over passing of the late Imad Mughniyeh's mother.
In a letter to Nasrollah, Soleimani wrote that Hajjeh Amina Salemeh, who was the mother of Mughniyah brothers should be remembered as "the mother of Hezbollah".
"Martyr Mughniyah's mother was a legendary woman who defended Islam, Lebanon and the Resistance axis," he said, adding that Hajjeh Amina Salemeh was not just the mother of Mughniyeh brothers, but she was the mother of all Lebanese martyrs.
Hajjeh Amina Salemeh passed away on Monday at the age of 80.