By Masoud Hossein
Iran record best ever showing at Asian Para Games
October 13, 2018 - 19:5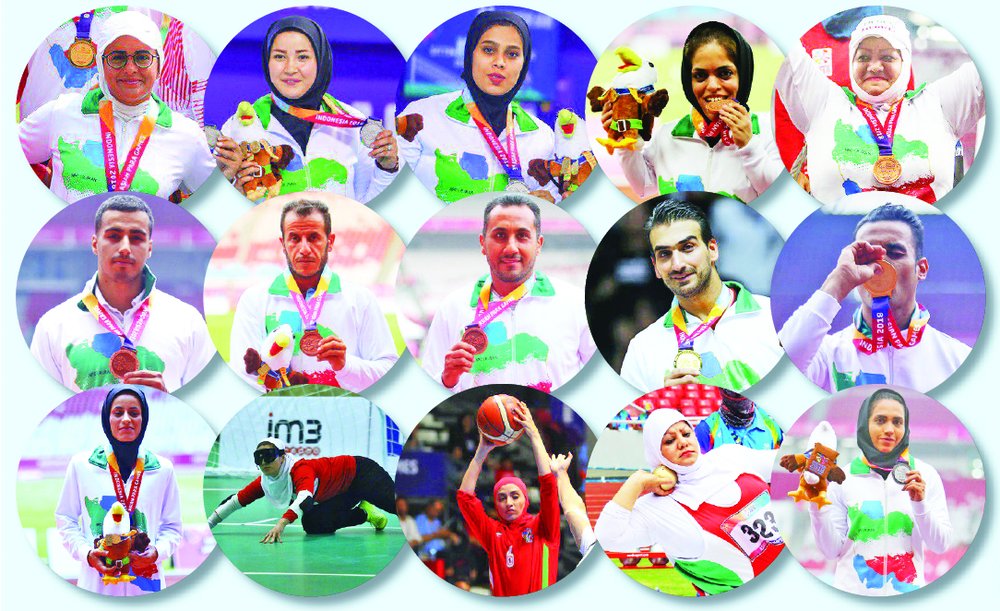 TEHRAN – Iran delegation moved one place up to third place at the Asian Para Games in Jakarta, Indonesia.
Iran won 51 gold, 42 silver and 43 bronze medals and were placed third in the overall rankings.
Asian heavyweights China came atop of the overall rankings with 172 gold, 88 silver and 59 bronze followed by South Korea (53 gold, 25 silver and 47 bronze).
A total of 210 athletes, consisting of 137 men and 73 women, represented Iran in 13 sports in the competition.
Iran finished in fourth place in the first edition held in the 2010 Asian Para Games in Guangzhou, China, earning 27 gold, 24 silver 29 bronze medals.
Four years later in Incheon, South Korea, Iran came fourth with 37 gold, 52 silver and 31 bronze medals.
The closing ceremony of the third edition of the 2018 Asian Para Games was held Saturday at the Madya Stadium, Gelora Bung Karno sporting complex with participation of 18,000 spectators.
*Gold Medal Winners:
Para Archery:
Mohammadreza Zandi - Men's Individual W1 Open
Zahra Nemati, Gholamreza Rahimi, Pouriya Jalalipour - Mixed Team Recurve Open W2/ST
Para Athletic:
Younes Seifipour - Men's Club Throw F32
Alireza Ghaleh Nasseri - Men's Discus Throw F54/55/56
Ozra Mahdavikiya - Women's 1500M T12/13
Vahid Alinajimi - Men's 200m T12
Vahid Alinajimi - Men's 400m T12
Mahdi Olad - Men's Shot Put F11
Mahdi Olad- Men's Discus Throw F11
Mohammadreza Ahmadi - Men's Shot Put F33
Farzad Sepahvand - Men's Discus Throw F43/44,F62/64
Hossein Khorsand Amiri - Men's Discus Throw F51/52/53
Batoul Jahangiri - Women's Shot Put F33
Hashemiyeh Motaghian - Women's Discus Throw F56/57
Alireza Mokhtari - Men's Shot Put F53
Aref Baharvand - Men's Shot Put F36
Mahnaz Aimini - Women's Javelin Throw F57
Arezoo Rahimi - Women's Shot Put F32
Omid Zarif Sanayei - Men's 400m T13
Mehdi Alizadeh - Men's Javelin Throw F33/34
Hamed Amiri - Men's Shot Put F54/55
Sajad Mohammadian - Men's Shot Put F42/61/63
Hamed Amiri - Men's Javelin Throw F53/54
Eshrat Kordestani - Women's Shot Put F56/57
Peyman Nasiri - Men's 1500M T20
Saman Pakbaz - Men's Discus Throw F12
Elnaz Darabian - Women's Discus Throw F51/52/53
Hamid Eslami - Men's 1500M T11
Mohammad Alvanpour - Men's Javelin Throw F56/57

Chess:
Omid Karimi - Men's Individual Standard VI B2/B3
Atefeh Naghavi - Women's Individual Standard VI B2/B3
Atefeh Naghavi, Fariba Zendehboudi, Fatemeh Barghoul - Women's Team Standard VI B2/B3
Fatemeh Barghoul, Fariba Zendehboudi, Atefeh Naghavi - Women's Team Rapid VI - B2/B3
Judo:
Vahid Nouri - Men's 90 Kg
Ehsan Mousanezhad - Men's 100 Kg
Powerlifting:
Amir Jafari Arangeh - Men's 59 Kg
Roohallah Rostami - Men's 72 Kg
Hamed Solhipour - Men's 97 kg
Siamand Rahman - Men's + 107
Shooting Para Sport:
Sareh Javanmardi - P4 - Mixed 50M Free Pistol - SH1
Sareh Javanmardi - P2 - Women's 10M Air Pistol - SH1
Roghayeh Shojaei - R2 - Women's 10M Air Rifle Standing - SH1
Para Swimming:
Shahin Izadyar - Men's 100M Butterfly S10
Shahin Izadyar - Men's 100M Freestyle S10
Shahin Izadyar - Men's 200m Individual Medley SM10
Shahin Izadyar - Men's 100m Breaststroke SB9
Shahin Izadyar - Men's 50m Freestyle S10
Shahin Izadyar - Men's 100M Backstroke S10

Men's Sitting Volleyball Team

Men's Wheelchair Basketball Team

Men's Goalball Team

*Silver Medal Winners:

Para Archery:
Zahra Nemati - Women's Individual Recurve Open W2/ST
Hadi Nori, Razieh Shirmohammadi, Sommayeh Abbaspour - Mixed Team Compound Open W2/ST
Para Athletic:
Behzad Azizi - Men's Javelin Throw F12/13
Aliasghar Javanmaradi- Men's Shot Put F35
Ali Mohammadyari - Men's Discus Throw F54/55/56
Javid Ehsani Shakib- Men's Discus Throw F57
Ali Olfatnia - Men's 200M T37
Elham Salehi - Women's Javelin Throw F53/54
Nourmohammad Arekhi - Men's Shot Put F11
Hajar Safarzadeh - Women's 200m T12
Saman Pakbaz - Men's Shot Put F12
Hashemiyeh Motaghian - Women's Javelin Throw F55/56
Asadollah Azimi - Discus Throw F51/52/53
Davoudali Ghasemi - Men's 100m T37
Siamak Saleh Farajzadeh - Men's Shot Put F34
Asadollah Azimi - Men's Shot Put F53
Hashem Rastegari - Men's 400m T37
Mohsen Kaedi - Men's Javelin Throw F33/34
Jalil Bagheri Jeddi - Men's Shot Put F54/55
Hajar Safarzadeh - Women's 400m T12
Abdolreza Jokar - Men's Javelin Throw F53/54
Hormoz Seidi - Men's Javelin Throw F37/38
Fereshteh Moradi - Women's Shot Put F34
Masoud Heydari - Men's Discus Throw F12
Marzieh Sedghi - Women's Shot Put F54
Faezeh Kermani - Women's Javelin Throw F33/34
Amanollah Papi - Men's Javelin Throw F56/57
Chess:
Leila Zarezadeh, Maliheh Safaei, Zahra Mohammadi Rad - Women's Team Standard VI B1
Maliheh Safaei, Leila Zarezadeh, Zahra Mohammadi Rad - Women's Team Rapid VI - B1
Omid Karimi, Majid Bagheri, Alireza Ghourchibeygi - Men's Team Standard VI B2/B3
Fariba Zendehboudi - Women's Individual Standard VI - B2/B3
Maliheh Safaei - Women's Individual Rapid VI - B1
Fatemeh Barghoul - Women's Individual Rapid VI - B2/B3
Judo:
Mohammadreza Kheirollahzadeh - Men's +100 Kg
Reza Gholami, Ali Abbasnejad, Omid Jafari, Vahid Nouri, Mohammadreza Kheirollahzadeh - Men's Team
Powerlifting:
Yousef Yousefi - Men's 59 Kg
Nader Moradi - Men's 80 Kg
Aliakbar Gharibshi - Men's 107
Mansour Pourmirzaei – Men's +107kg
Shooting Para Sport:
Samira Eram - P2 - Women's 10M Air Pistol - SH1
Para Swimming:
Shahin Izadyar - Men's 400m Freestyle S10
Women's Sitting Volleyball
*Bronze Medal Winners:
Para Archery:
Majid Kakoosh - Men's Individual W1 Open
Para Athletic:
Erfan Hosseini - Men's Javelin Throw F12/13
Ali Omidi - Men's Javelin Throw F42-44/61-64
Jalil Bagheri Jeddi - Men's Discus Throw F54/55/56
Davoudali Ghasemi - Men's 200M T37
Davoudali Ghasemi - Men's 400m T37
Omid Zarif Sanayei - Men's 200M T13
Zahra Bornaki - Women's Long Jump T45/46/47
Ozra Mahdavikia - Women's Javelin Throw F12/13
Solmaz Bazargan - Women's Discus Throw F43/44,F62/64
Mehdi Alizadeh - Men's Shot Put F33
Masoud Heydari - Men's Shot Put F12
Alireza Mokhtari - Men's Discus Throw F51/52/53
Omid Zarif Sanayei - Men's 100m T13
Arian Lotfi - Men's Discus Throw F11
Farhad Kahrizi - Men's 400m T36
Ahmad Ojaghlou- Men's 100m T45/46/47
Ahmad Ojaghlou - Men's 200M T45/46/47
Hajar Safarzadeh- Women's 100m T12
Amir Khosravani- Men's Long Jump T12
Zhila Yousefi- Women's Discus Throw F40/41
Mikaeil Dayani - Men's 5000M T12/13
Younes Seifipour - Men's Shot Put F32
Parvin Moghaddam - Women's Shot Put F55
Amin Abdolpour - Men's 1500M T45/46
Javad Hardani - Men's Javelin Throw F37/38
Shahla Hadidi - Women's Shot Put F54
Batoul Jahangiri - Women's Javelin Throw F33/34
Mohammad Khalvandi - Men's Javelin Throw F56/57
Hamed Amiri - Men's Discus Throw F54/55/56
Chess:
Leila Zarezadeh- Women's Individual Standard VI B1
Fatemeh Barghoul - Women's Individual Standard VI B2/B3
Fariba Zendehboudi - Women's Individual Rapid VI - B2/B3 - Women
Erfan Mohamadalizadeh, Mehdi Roumifard, Hassanali Ghadiri -Men's Team Standard VI B1
Judo:
Meysam Banitaba - Men's 60 Kg
Reza Gholami- Men's 66 Kg
Omid Jafari - Men's 81 Kg
Powerlifting:
Hamzeh Mohammadi - Men's 65 Kg
Saman Razi - Men's 107 Kg
Para Swimming:
Mohammadhossein Karimi - Men's 50M Freestyle S12
Women's Goalball Team
Table Tennis:
Hassan Janfeshan - Men's Singles- TT 2
Para Cycling:
Mehdi Mohammadi - Men's C5 Individual Pursuit 4000M