Queiroz's double standard policy over Team Melli players' retirement
October 16, 2018 - 13:38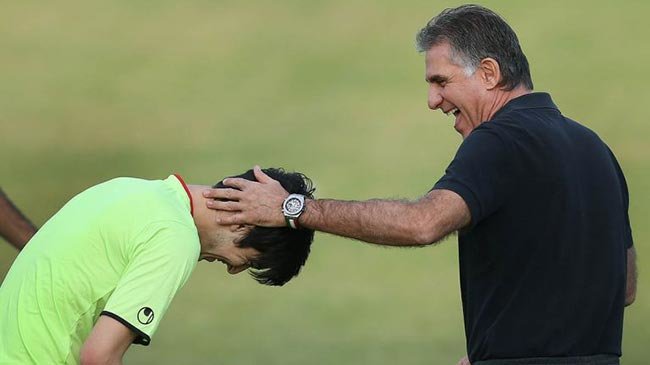 TEHRAN – Carlos Queiroz's uncompromising policy on taking back players after declaration of retirement from the Team Melli, has all of the sudden changed when it comes to Team Melli striker Sardar Azmoun.
Azmoun announced his retirement from international football soon after the 2018 World Cup when he became the target of numerous insults on social media for failing to score in any of Iran's three group stage games at the competition. BUT he came out of the retirement amid criticism.
Azmoun had a nerve to say that the Iranian people had to thank him for playing in the games, because he spent his time representing his country in Russia instead of going on vacation. What a disrespectful remark, some may say! What an arrogant attitude, some may agree!
To wear Iran color is a great honor for every player. Azmoun has recently said he is a "soldier of Iran", but he has yet to apologize for that OFFENSIVE comment.
Under Queiroz's inflexible rules, no player has been allowed to come out of retirement after announcing departure.
For example, Hadi Aghili and Mehdi Rahmati had a change of heart and decided to return to Team Melli, but Queiroz told them the door is closed.
Indeed, the door was closed to them but not to Azmoun.
There's a 'Double Standard policy' for a coach, who on and on talks about discipline and professionalism.
Queiroz's policy that applies to some but not all players reminds me of George Orwell's 'Animal Farm': "All animals are equal, but some animals are more equal than others."
Writing by Masoud Hossein; editing by Marjan Golpira