Iran not ready to pay for world's expediency unaided: Qassemi 
October 31, 2018 - 20:23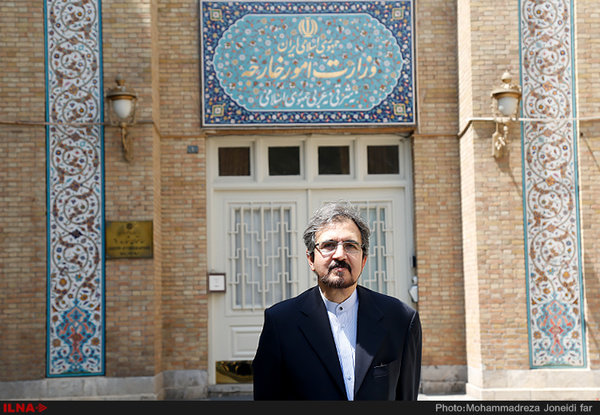 TEHRAN - In an interview with ISNA, Iranian Foreign Ministry spokesman Bahram Qassemi has said that Iran has complied with the JCPOA to date, but the country requires the cooperation of other signatories to the deal in the face of the U.S.'s unjust obstruction of the agreements. 
Qassemi remarked that the U.S. has never completely lifted the economic sanctions against Iran, and with the administration of Donald Trump who has performed "unilateral and egocentric" deeds, it has hindered the implementation of Iran's nuclear agreement by not allowing Iran to enjoy the dividends of the deal.
"After he withdrew the U.S. from the deal, Trump has been determined to renew the unilateral sanctions against Iran. He has acted against Iran while violating the international rules and not hesitating in taking devastating actions against Iran and other independent countries of the world, as well as European and non-European companies."
He also pointed out that the U.S has not only insulted the non-American companies and their countries by imposing sanctions on them, but also has shown disrespect and irresponsibility to the whole world by violating United Nations Security Council Resolution 2231, which endorses the JCPOA.
Commenting on Iran's compliance with the JCPOA despite the U.S. withdrawal, Qassemi said that Iran has remained in the deal in accordance with its longstanding culture, civilization, as well as its cogent policies to maintain peace and security in the region, also to show the country's commitment to international agreements.
Elsewhere in his remarks, Qassemi underlined that Iran has invested a great deal in preventing the advancements of the terrorist and Takfiri groups.
Referring to Iran's advisory military help to Syria and Iraq, Qassemi noted that Iran, "unconditionally" and "humbly," has reached out to all of the region's governments that are grappling with the ominous phenomenon of terrorism.
"Whereas the U.S and its regional partners support the terrorists of the region, they accuse Iran of supporting terrorism [...]. Some regime in the region, which is an ally of the U.S., has invaded Yemen and killed its innocent people with cutting-edge American[-made] arms."
Qassemi added that, during the recent months, the U.S. and its regional partners have done all they could against Iran by intensifying their attempts to devastate Iran's economic outlook. "Nevertheless, Iran knows how to entrap the enemy and make them admit defeat in the face of its resilience and resistance."
"With the second batch of the U.S. sanctions around the corner, we believe there is nothing left to the U.S. to use against us. The day [Nov. 3] will come, and the eventual defeat is for those who are ignorant of the region's history, geography, demography, and changes," Qassemi said.
Qassemi highlighted that Iran does not have any obligations to comply with all of its international commitments if Washington's unjust obstruction of the nuclear deal and its violation of the agreements continue. "Nonetheless, Iran's talks with the remaining parties to the nuclear deal and the EU have reached a good stage and great steps have been taken in this regard."
Warning the EU of the Zionist lobby and extremists' plots and conspiracies, he stressed that Iran does not have doubts about the EU's resolve to preserve the JCPOA, yet the world should force the U. S. to stop this unilateralism, since "Iran does not afford to pay for the expediency of the world unaided."