'EU package should guarantee Iran's interests'
July 24, 2018 - 21:44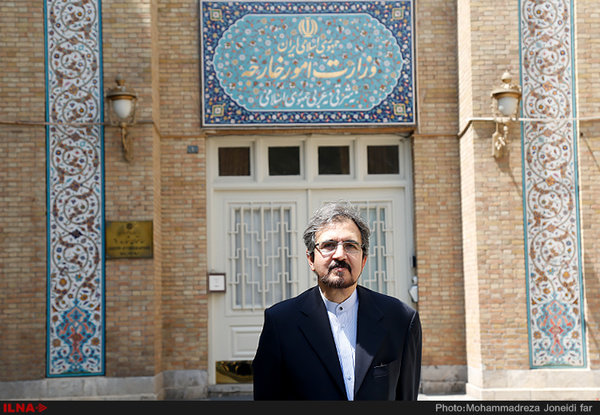 TEHRAN - Iranian Foreign Ministry spokesman Bahram Qassemi has said that any economic package by the European Union, Russia and China should "guarantee Iran's interests" if the 2015 nuclear agreement is going to continue to exist.
"The European Union along with China and Russia have shown that they have political determination to continue implementation of the nuclear deal. However, what is important is that we should receive a package which contains economic proposals that guarantee Iran's interests," he told ILNA in an interview published on Tuesday.
Qassemi noted that the remaining parties have not decided yet on a deadline to present the package but they have not much time.
"The European side is well aware of realities and Iran's views. We hope that they will offer their package in Tehran or outside Tehran as soon as possible," he said.
Elsewhere, Qassemi noted that Iran's demands that should be included in the package are within the framework of the JCPOA, adding that Iran is not making excessive demands.
Iran has demanded that the package should address various sectors, including oil, gas, and insurance and banking services.
In an interview with the national TV, Qassemi has also said the U.S. administration is seeking to undermine Iran's relations with the outside world.
The United States has targeted "Iran's rational relationship with other countries", he said.
Donald Trump withdrew the United States from the multilateral nuclear agreement in May and plans to reintroduce sanctions against Iran.
According to the U.S. Treasury, the first batch of sanctions will go into force on August 6 and the second stage on November 4.
To save the multilateral agreement, the Joint Commission of the JCPOA met at the foreign ministerial level in Vienna on July 6. EU foreign policy chief Federica Mogherini, who chaired the meeting, announced that Iran and the remaining parties had agreed to continue negotiations, including on economic measures, over how to keep the deal alive.
Iranian Foreign Minister Mohammad Javad Zarif said on Sunday that remaining parties have so far failed to take "practical actions" to save the agreement.
NA/PA