"Donald Salman" comes to Tehran gallery
November 5, 2018 - 18:42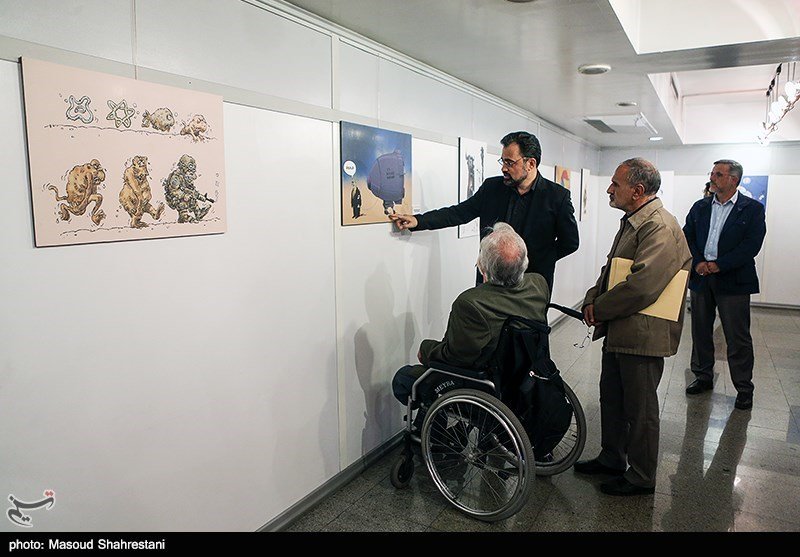 TEHRAN – A cartoon exhibit entitled "Donald Salman" opened at the Abolfazl Aali Gallery of the Art Bureau in Tehran on Sunday.
Created by Masud Shojaei-Tabatabai, 85 cartoons that mock the foreign policy issues in the U.S. and Saudi Arabia have been showcased at the exhibition.
Shojaei-Tabatabai is the director of the Art Bureau's Visual Arts Office and the secretary of the International Holocaust Cartoons Contest in Tehran.
He also organized the International Trumpism Cartoon and Caricature Contest in Tehran.
The exhibition will until November 14.
An article published by the Tasnim News Agency on Monday criticized the Art Bureau for dedicating it gallery for a solo exhibition of one of its managers.
The article called the exhibition unbalanced and said that the organizers should use works by more cartoonists to enrich it.
Most of the cartoons were done years ago on the subject of the Afghanistan war, and were published in the book "Only for the USA Army" in 2016, the article said.
Only two cartoons of the exhibition focus on the killing of the Saudi Arabian dissident journalist Jamal Khashoggi.
"Therefore the choice of the title 'Donald Salman' for the exhibition is also nonsense," the article stated.
Photo: Cartoonist Masud Shojaei-Tabatabai talks to visitors during his exhibition "Donald Salman" at Abolfazl Aali Gallery in Tehran on November 4, 2018. (Tasnim)
MMS/YAW