By Ishaal Zehra - Daily national herald tribune journalist
Haqqanis- Blue-Eyed of U.S.
November 11, 2018 - 9:45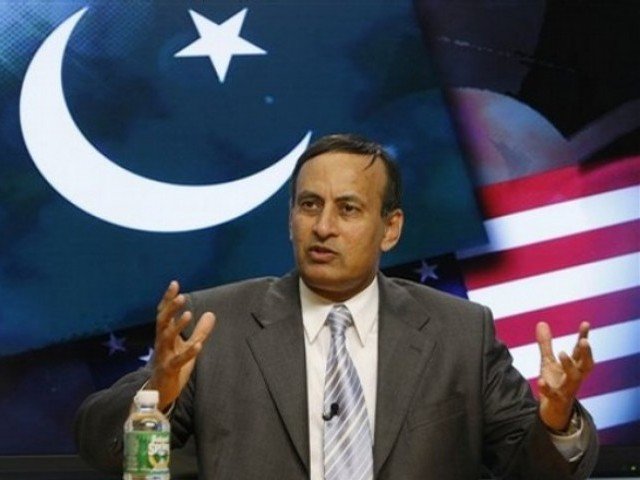 ISLAMABAD - Pakistan has been caught in between the two Haqqanis' who are somehow obsessed with this country. One is the notorious Haqqani network and the other is Husain Haqqani – Pakistan's former ambassador to the United States.
The Haqqani network has been dealt with well, but how to deal with the America's blue-eyed Husain Haqqani who is tarnishing not the peace but the peaceful image of Pakistan.
Much awaited verdict from the Supreme Court of Pakistan was finally announced in March 2018 when the honorable court issued arrest warrants for the production of former ambassador to the U.S. in relation to the famous Memogate scandal. Sent by Haqqani in 2011 the 'memo' allegedly mentioned a possible army coup in Pakistan following the U.S. raid in Abbottabad to kill Osama bin Laden.
It further sought assistance from the U.S. for the then Pakistan Peoples' Party (PPP) government for 'reigning in the military and intelligence agencies'. The scandal, taken to the Supreme Court by then opposition leader and several others, had led to Haqqani's resignation and subsequent exodus from the country as the hearing was still under way.
Besides the re-opening of the memogate case, the Federal Investigation Agency (FIA) of Pakistan, has also registered a case against Husain Haqqani in reference to a corruption charge in which he has been accused of illegally using a secret fund $7.2 million, while in office.
Haqqani has moved far up the scale from his modest beginnings in Malir, Karachi where he was born in 1956. He is considered as a turn coat. The former Far Eastern Economic Review correspondent was the media advisor to Punjab Chief Minister Nawaz Sharif when Benazir Bhutto was at the center in the year 1988. Ms Bhutto could not sustain the government and was forced to move out of office within 2 years.
Allegedly, Haqqani was instrumental in bringing down that elected government by turning the Punjab against the Centre. He was the architect of that nasty smear campaign against Benazir Bhutto which ranged from branding her a security risk to air-dropping leaflets showing photographs of her relaxing by the poolside in a revealing swimming costume.
Haqqani later switched to serve caretaker Prime Minister Ghulam Mustafa Jatoi in 1990, and then switched back again to serve Sharif when he was elected Prime Minister. In 1992, he was sent to Sri Lanka as Pakistan's High Commissioner. On the eve of Nawaz Sharif's dismissal on 18 April 1993, he jumped the sinking ship and joined President Ghulam Ishaq Khan Bandwagon.
Immediately, he was rewarded by being made a special assistant to the caretaker Prime Minister Mir Balakh Sher Mazari with the rank of Minister of State.
Masoor Hallaj writes that Husain Haqqani started his career as an Islami Jamiat-e-Tulba (the student wing of Jamat-e-Islami) at the Karachi University. During that period, a policy of appeasement from the center towards the IJT made matter worse. Guns boomed at the University Campus for the first time in 1979 when, according to Imran Shirvanee, Raja Javed used a sten gun 'to tackle the opposition.'
At that time, the IJT was the ruling party in Karachi University politics with Husain Haqqani as leader and Raja Javed was known to be his close aide. The violence at the University and the brutal suppression of free speech that the IJT imposed on the campus in those days was done with Mr Haqqani very much an active player. Many still say that he was the architect of the IJT's policy of using brute force to suppress opposition opinion.
There is another misconception about him being a scholar. He is not a scholar by any measure. There are no scholarly articles to his credit other than his Pak-American terror books. Fact that he served as Pak ambassador further clouds his image in mind of an average person but the truth is that ambassadors are political appointments in Pakistan and have nothing to do with merit or background. Haqqani is a highly opportunist, cunning and ambitious character who is known for his anti-Pakistan and anti-Army views and being used for this purpose only. He supports anti-Pakistan lobbies through his various assertions while living in the U.S.
Husain Haqqani is considered as a traitor by Pakistani masses for many reasons. While serving as Pakistani ambassador, he is blamed to be protecting U.S. interests rather own country. Many CIA agents like Ramond Davis were issued visas on his directions.
Besides, all of his anti-state and anti-Pakistan books including Magnificent Delusions: Pakistan, the United States, and an Epic History of Misunderstanding, India vs Pakistan: Why can't We Just be Friends?, Pakistan: Between Mosque and Military, Reimagining Pakistan: Transforming a Dysfunctional Nuclear State are published and funded with support of Indian publisher Harper Collins his connections with – RAW, MOSSAD and CIA also substantiates his pro-India/U.S. and MQM affiliation.
Pakistan's Law Enforcement Agencies have registered a number of cases against him on account of committing a criminal breach of trust, misuse of authority, embezzlement of funds, delivering hate speeches, writing books and articles against the sovereignty of Pakistan.
Chief Justice of Pakistan Mr Justice Saqib Nisar has appointed a celebrated international law expert and former federal law minister Ahmer Bilal Soofi as amicus curiae (friend of the court) in the Memogate case. One can expect things to move fluently further with him as a facilitator of court. As things have become exceptionally doubtful in this case especially after when the Federal Investigation Agency's Director General Bashir Memon informed the court that when he contacted U.S. officials in regard to bring Haqqani back, he was told by the Americans that "you too have our man", without explaining further.
In September last year, Haqqani while talking to the Geo News said that "Memogate was just media noise, which is why the case has never been decided by the Supreme Court. That it disrupted lives without a conclusion is a sad reflection on how things work in Pakistan. I have moved on". Now when he is been given the chance to be heard by the court he is insisting on not appearing in the court. The former envoy had left Pakistan on the promise that he would return but he is not keeping his promise, he probably never intended to.
If Haqqani is a man of words, he should come back and face the court proceedings. But he will never do so as he has not got the required guts. Haqqani is an absconder and has committed treason. Once asked by BBC if he now deserved a mention in the Guinness Book of Records for switching loyalties so often, his reply was classic: I was always with the President, he said. He still is with the president. Which country? That doesn't matters him much.