One dead, over 400 injured in French protests over fuel prices
November 19, 2018 - 13:36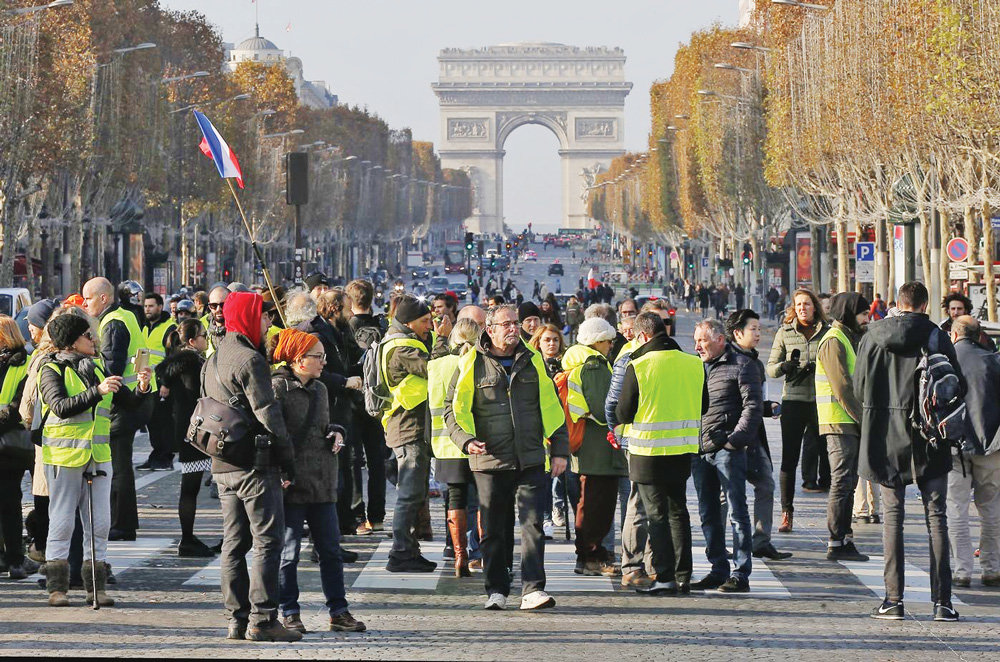 Tens of thousands of people across France have protested against high fuel prices, in mass rallies that turned violent when clashes erupted in parts of the country and a protester was accidentally run over and killed by a car.
An estimated 240,000 people gathered on Saturday at 2,000 locations, blocking roundabouts and motorway exits as part of what has been dubbed the "yellow vests" protest.
The movement, named for the high-visibility jackets worn by protesters, erupted on social media last month with calls for mass blockades of roads and highways.
Protesters blame a 20-percent rise in diesel prices in the last year on the so-called "green taxes" under President Emmanuel Macron.
At Pont-de-Beauvoisin, in southeast France, a woman trying to get her daughter to the doctor panicked when protesters surrounded her car and started banging on the roof. She accidentally struck and killed a woman in her 60s, the interior ministry said.
In Paris, protesters holding "Macron resign!" signs and singing the national anthem partially blocked the Champs Elysees in the heart of the French capital.
The Interior Ministry said security forces used tear gas in several places to unblock major routes, notably at the access road to the Mont Blanc tunnel where about 30 canisters were fired.
Police at first held back protesters from advancing on Paris' Champs-Elysees, with police vans blocking them from moving down the famed avenue. But up to 200 people were later seen walking down the street, apparently heading toward the Elysee presidential palace.
Protesters, wearing yellow safety vests and dubbing themselves the "yellow jackets," had pledged to target tollbooths, roundabouts and the bypass that rings Paris. The fluorescent yellow vests donned by the protesters must be kept in the vehicles of all French drivers in case of car troubles.
Macron's popularity rate drops amid deadly fuel protests

French President Emmanuel Macron's popularity rate has dropped to 25 percent, during a tumultuous week marked by nationwide protests over fuel prices.
A popularity survey conducted by research group Ifop on nearly 2,000 participants in mid-November showed a 4-percent drop in Macron's popularity compared to October.
According to a report published in the Journal du Dimanche on Sunday, 4 percent of those surveyed were "very satisfied" with Macron's performance, and 21 percent were "mostly satisfied."
On the other hand, 34 percent were "mostly dissatisfied," and 39% were "very dissatisfied."
The report did not say what the remaining 2 percent of participants in the poll thought about Macron's performance.
Some of the drop in Macron's popularity could be attributed to the French president's high fuel prices.
More than 400 people were injured, 14 of them seriously, during the fuel price protests that swept through France. A woman died in the ensuing violence and 28 members of the police and fire brigade also sustained injuries.
The uproar spread to 87 locations around the country, with protesters blocking roads in a show of anger at fuel tax increase
(Source: agencies)