Iranian computer scientist wins University of Waterloo's Alumni Gold Medals
November 22, 2018 - 8:48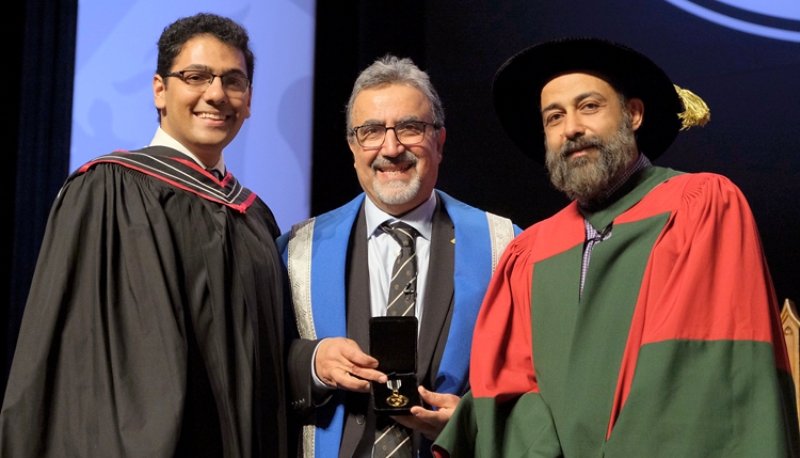 TEHRAN — Iranian computer scientist Amir Hossein Karimi won Canada's University of Waterloo's Alumni Gold Medals in late October for Outstanding Academic Performance in a Master's Program at Waterloo's convocation ceremonies.
According to the University of Waterloo's website the award recognizes the academic achievements of graduating students by awarding Alumni Gold Medals during the University's June and October convocation ceremonies.
Graduates are bestowed a ten carat gold medal embossed with the University's official seal as a symbol of our academic heritage. Each medal is also personalized with the recipient's name and faculty.
Amir Hossein, who is originally born in Shiraz, southern Iran, finished high school in Iran, however, he travelled to Canada pursuing higher education.
After graduating from the University of Toronto in engineering science, Amir Hossein spent two years in industry and co-founded Brizi, one of a handful of teams selected nationally to take part in Canada's Next 36 Entrepreneurship Institute, University of Waterloo wrote.
Amir-Hossein Karimi had already worked as a software engineer at Facebook, BlackBerry and even founded a startup when he realized he wanted to go back to school.
In an interview Amir Hossein has told Waterloo's University Relations "I missed math. As a software engineer, I had a great job...I enjoyed the types of projects and technologies I was working with, but the studying math part, which I geeked out on, that was missing," said Karimi. "And coming back to school, to the University of Waterloo, and especially the computer science program, was the perfect place to be for something like that."
In his final year as a master's student at the University of Waterloo, he was a Scientist in Residence at Next AI, a Toronto-based incubator, where he consulted a new generation of entrepreneurs.
Currently, Karimi is pursuing his PhD at the Max Planck ETH Centre for Learning Systems in Germany. While participating in research and expanding his horizons, Karimi hopes his work will have a great impact on the understanding of human and computer intelligence.
"I just want to have an intelligence-themed career," said Karimi. "Whether that's consulting intelligence-based startups, or doing research in AI and cognitive science, or anything else."