Producers reach accord to remove 1.2 million barrels a day
OPEC agrees on larger-than-expected oil cut
December 7, 2018 - 18:11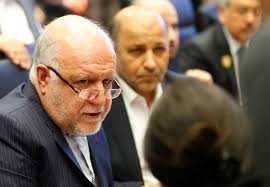 OPEC finally broke an impasse over production curbs, agreeing on a larger-than-expected cut with allies after two days of fractious negotiations in Vienna.
The cartel and its partners agreed to remove 1.2 million barrels a day from the market, with OPEC itself shouldering 800,000 barrels of the burden. Iran emerged as a winner from the contentious talks, saying it's secured an exemption from cuts as it suffers the effects of U.S. sanctions.
Crude surged as much as 5.4 percent in London, raising the risk that the deal could anger U.S. President Donald Trump, who had urged the group to keep the taps open and prices low.
The breakthrough at the Organization of Petroleum Exporting Countries' secretariat followed a series of bilateral meetings convened by non-OPEC member Russia, which emerged as the key broker between arch rivals Saudi Arabia and Iran. OPEC has been under increasing pressure from forces re-drawing the global oil map, leaving it ever more dependent on Russia's support while also subject to vehement opposition from Trump.
The final deal is a surprise, since discussions had earlier centered on a proposed output reduction from OPEC and its allies of about 1 million barrels a day, with OPEC cutting 650,000 barrels of the total, according to delegates.
Producers will use October production levels as a baseline for cuts and the agreement will be reviewed in April. Russia's contribution to the reduction is not yet known. The country had initially pitched for a 100,000 to 150,000-barrel-a-day cut, but subsequently indicated it might agree to a slightly larger reduction, a delegate said earlier.
Oil Duopoly
Much has changed for OPEC since 2016, when Russia and Saudi Arabia ended their historic animosity and started to manage the market together. The alliance has transformed the cartel into a duopoly in which the Kremlin is asserting its power.
"OPEC, or more precisely Saudi Arabia, has been the head honcho of the oil world for nearly six decades; yet these days it seems unable to make a decision without Russia's blessing, let alone without risking the wrath of the U.S. president," said Stephen Brennock, an analyst at PVM Oil Associates in London.
OPEC's de facto leader Saudi Arabia, under economic pressure after a collapse in oil prices last month, has sought to walk a fine line between preventing a surplus next year and appeasing Trump. The president has taken to using his Twitter account to berate the group's policies and sees low oil prices as key to sustaining America's economic growth.
While ministers met on Wednesday, Trump tweeted that the "world does not want to see, or need, higher oil prices!"
(Source: Bloomberg)