By Syed Zafar Mehdi
Pakistan won't fight anyone else's war; can't be treated as 'hired gun', says PM Khan
December 9, 2018 - 10:16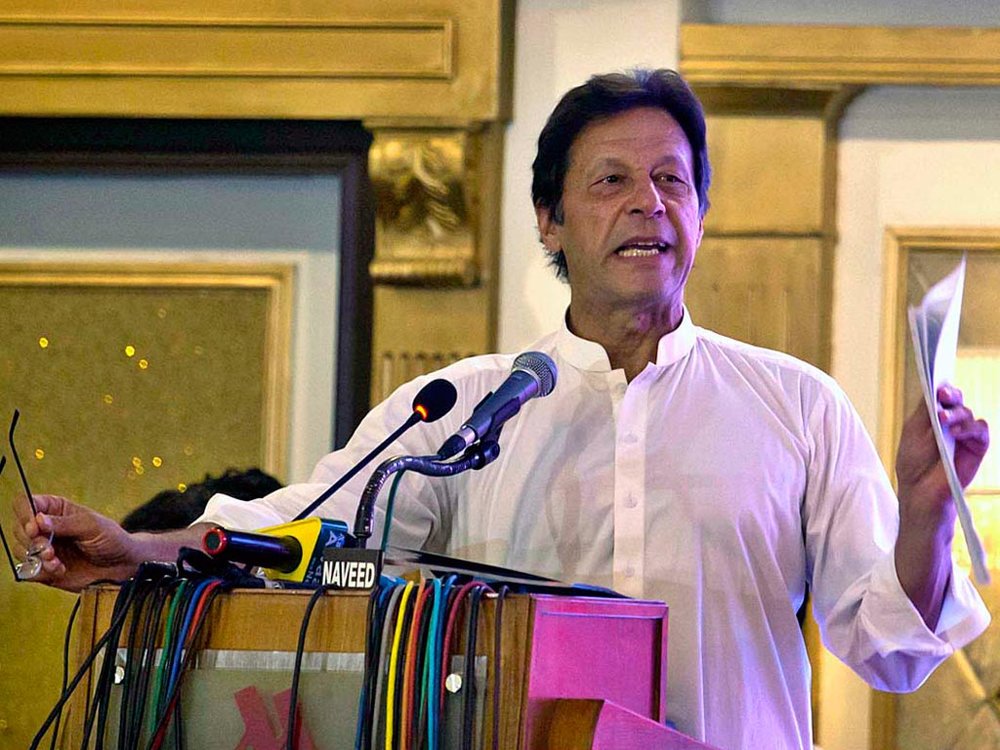 Pakistan's Prime Minister Imran Khan, the cricketer-turned-politician, was known on the pitch for his flamboyance and aggression. A fierce competitor, he always led his team by example and turned aggression into a lethal weapon to subdue his competitors and gain upper hand over them.
Off the cricket field and in the political battleground, he exudes same confidence and same aggression. After a long and eventful political innings, which saw him rise and grow as a political leader, Khan finally accomplished his long-cherished dream of becoming the most powerful man in Pakistani politics.
Known for speaking his mind, without fear or favor, he made strong statements against the U.S. before and after becoming the premier of Pakistan. Some experts had opined that his stance against the U.S. would change with power, but so far he has stuck to his guns.
In recent weeks, the language has got harder and the anger is quite apparent. PM Khan has responded to Trump's hyperbolic tweets with equal fury and ferocity, which has even led to the suspension of U.S. aid to Pakistan.
On Friday, speaking at an event in Islamabad, PM Khan said Pakistan will no more fight anyone else's war, nor will it be treated as a 'hired gun', and those who used to say 'do more' are today seeking Pakistan's help in Afghanistan.
This was in reference to U.S. President Donald Trump's statement a few days ago in which he asked Pakistan's help in fighting against terrorism (in Afghanistan). Khan, who has engaged in war of words with Trump on quite a few occasions in recent weeks, was in no mood to hide his exasperation.
He reiterated that Pakistan wanted peace in the region, including in Afghanistan. However, he made it emphatically clear that there would be no compromise on Pakistan's national interest.
"Today, I want to make it very clear that we will neither fight someone's war nor bow before anyone. Rather we shall seek peace with others," PM Khan said. "Whenever the Muslims rose, they rose while following the principles laid down in the Holy Quran."
The relations between the U.S. and Pakistan – two strange bedfellows – have nosedived since the New Year tweet from Trump in which he threatened to withhold financial aid to Pakistan for not doing enough to dismantle terror sanctuaries in the country.
Since then, Trump administration has not only suspended the aid but also accused Pakistan of not doing anything to help the U.S. in its so-called 'war against terrorism'.
Just last week, while speaking to Fox News, Trump sought to justify his administration's decision to withdraw "military aid" to Pakistan, which inflicted irreparable damage to their bilateral relationship.
"They [Pakistan] don't do a damn thing for us," the U.S. president said, raising the issue of Osama bin Laden being found in Pakistan's garrison city of Abbotabad in 2011.
It triggered war of words between Trump and Khan, which was also joined by Pakistani minister Shireen Mazari. Mazari called "Trump's tirade against Pakistan" a lesson for those Pakistani leaders "who kept appeasing the U.S. especially after 9/11!"
Meanwhile, in an interview to The Washington Post, PM Khan dismissed the notion that he was involved in a 'Twitter war' with Trump and asserted that he would never want to have a relationship where Pakistan is treated like a "hired gun".
Commenting on the Twitter exchange between him and the U.S. president, he said "it was just setting the record right. The exchange was about being blamed for deeply flawed US policies -- the military approach to Afghanistan."
He said Trump was accusing Pakistan of being the reason for these sanctuaries (for Taliban leaders). "There are no sanctuaries in Pakistan," he emphasized.
It is in place to mention that the Trump administration has repeatedly accused Pakistan of not doing enough to dismantle terror sanctuaries like those belonging to Haqqani Network inside Pakistan. Even the Afghan government led by Ashraf Ghani has made similar accusations against Islamabad.
PM Khan he got a "complete briefing" from the security forces when he took over as the premier few months ago. "They said that we have time and time again asked the Americans, 'Can you tell us where the sanctuaries are, and we will go after them?' There are no sanctuaries in Pakistan," he reiterated.
"Our border between Pakistan and Afghanistan has the greatest amount of surveillance. The U.S. has satellites and drones. These people crossing would be seen," PM Khan said in the interview.
Regarding Trump's letter to him earlier this week seeking help in the Afghan peace process, the PM said, "Peace in Afghanistan is in Pakistan's interest. We will do everything," the PTI leader said. "We will try our best. Putting pressure on the Taliban is easier said than done. Bear in mind that about 40 percent of Afghanistan is now out of the government's hands."
On the question of Pakistan's relations with the U.S., he said he would want to have a relationship where Pakistan was treated like a "hired gun" — given money to fight someone else's war. "We should never put ourselves in this position again. It not only cost us human lives, devastation of our tribal areas, but it also cost us our dignity," he emphasized.
As it appears, the relationship between the two countries has sunk to a new low. Punitive actions against Pakistan — suspending security assistance, sanctioning Pakistani military officials with links to terror, cancelling Pakistan's non-NATO ally status, increasing drone strikes inside Pakistan, instigating international financial institutions to suspend loans to Pakistan, and distasteful Twitter wars — will only have uglier repercussions for their bilateral relationship .