'Iran, N. Korea see closer ties as remedy against U.S. sanctions'
December 12, 2018 - 20:33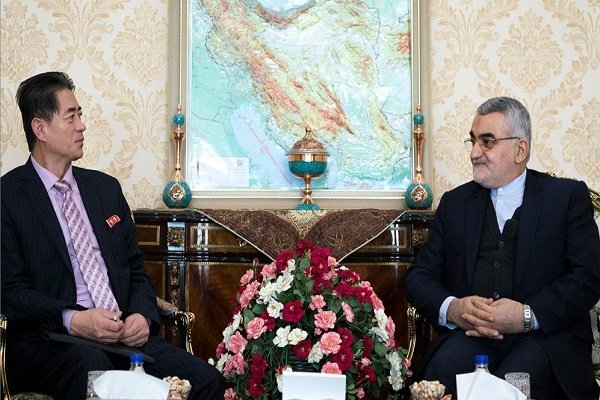 TEHRAN – Head of the Iran-North Korea parliamentary friendship group on Wednesday underlined the importance of closer relations between Iran and North Korea to counter the effect of cruel sanctions the U.S. has imposed against the two countries.
Alaeddin Boroujerdi made the remarks in a meeting with North Korean Ambassador to Tehran Kang Sam-hyon, Mehr reported.
The MP said Iran and North Korea enjoy great potential to meet the interests of the two countries.
"There are numerous potentials in Iran and North Korea, which need to be realized through careful and proper planning in order to advance the national interests of the two countries," Boroujerdi remarked.
He said parliamentary ties can facilitate political, economic and cultural relations between the two nations.
The lawmaker also emphasized the importance of implementing bilateral economic agreements and facilitating the involvement of the private sectors of Iran and North Korea in both sides' economy.
Kang, for his part, acknowledged the friendly nature of relations between the two sides, saying the optimal use of the existing economic and agricultural platforms in North Korea and Iran can lead to closer ties.
Pointing to the recent visit by Iran-North Korea parliamentary friendship group to Pyongyang, the ambassador said expansion of relations among independent countries against U.S. sanctions can decrease the impact of the sanctions.
MH/PA