Pakistan senator: We should not look to the West
December 19, 2018 - 17:59
TEHRAN - Asif Saeed Kirmani, a Pakistani senator, believes that Pakistan, Iran, Afghanistan and Turkey should not look to the West for economic progress, saying these countries are the gateway to Asia and enjoy good economic relationship with China as the second biggest economy in the world.
"We don't have to look to the West," Senator Kirmani told the Tehran Times on the sidelines of an anti-terrorism conference, which brought parliament speakers of Afghanistan, China, Iran, Pakistan, Russia and Turkey together in Tehran on December 8.
Kirmani, who was part of the parliamentary team accompanying his country's National Assembly speaker to Tehran, also suggested the formation of a "special working group" to find ways to strengthen economic ties between Iran and Pakistan as two important neighbors with large populations.
Following is the text of the conference:
Question: The volume of trade ties between Iran and Pakistan as two great neighbors, Pakistan with 200 million population and Iran with more than 80 million population, is too low. Why is it so?
Answer: This is very unfortunate that trade between Pakistan and Iran is not as good as it should be. In the meeting we had with honorable President of Iran and honorable speaker of the Iranian parliament this subject came under discussion and both sides agreed that they must put some extra efforts to boost bilateral trade.
Iran is a really rich country. It has natural resources; it has gas; it has oil. Pakistan is an agriculture-based country. So we can do a lot of business in different areas; and we are going back with this message that the Iranian leadership is very eager (and) very willing to increase trade with Pakistan. We the parliamentarians go back and we can do our best to help promote trade between the two countries. The gas pipeline is still pending from our side. Iran has almost completed its part of the gas pipeline.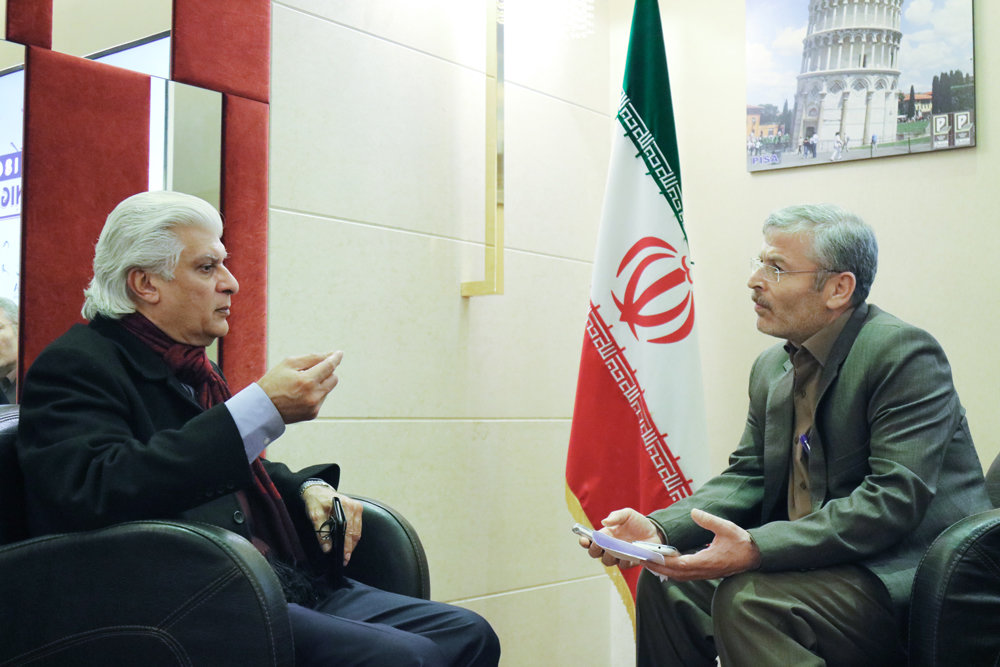 It's also really vital for us to have a real transport link between Pakistan and Iran.
In general, I would request that the both countries form a special working group to look for ways and means how to increase trade. We have wasted a lot of time, and I personally feel that Pakistan and Iran, as two brotherly Islamic countries, should enjoy strong ties.
Also if there is some misunderstandings, shortcomings or problems between the two sides, they should be cleared up and removed as soon as possible because this is ideal for the two neighbors.
Our Allah is one; our Quran is one, and our hearts have the same rhythm. We have a heart-to-heart relationship. The Iranian government and people are very close to our hearts. Pakistan and Iran should sit down and seriously resolve differences as differences do happen in a family, but those families succeed who can resolve their differences. I hope that things get better and the relationship between Pakistan and Iran would improve.
Q: What is your view of the anti-terrorism conference in Tehran?
A: Pakistan and Iran have suffered from terrorism. The recent terrorist attack in Chabahar port is very saddening. In Pakistan over 70,000 people, including men, women and children, and security forces, have been killed brutally in terrorist attacks. And the conference on December 8 in Tehran was intended to coordinate efforts in the fight against terrorism. I am very hopeful that these six countries will cooperate and find strategy how to counter terrorism.
Q: What is your analysis of economic interaction between the countries participating in the conference?
A: They should also work to create more opportunity for business ties, bilateral and multilateral. Iran, Afghanistan, Pakistan, China, Turkey and Russia can bring financial revolution to the region. We don't have to look to the West; if these 5 countries become united with the Central Asian states they can become game changers. In that case there will be more job opportunities and more prosperity to the region. So I am very hopeful to see that day very soon. Pakistan and Iran are the gateway to Asia. You have Chabahar Port in Iran, we have Gwadar Port. Why not to do something jointly to elevate the living standards of citizens.