Importing medicine from Brazil 'a new objective': health minister 
December 28, 2018 - 21:1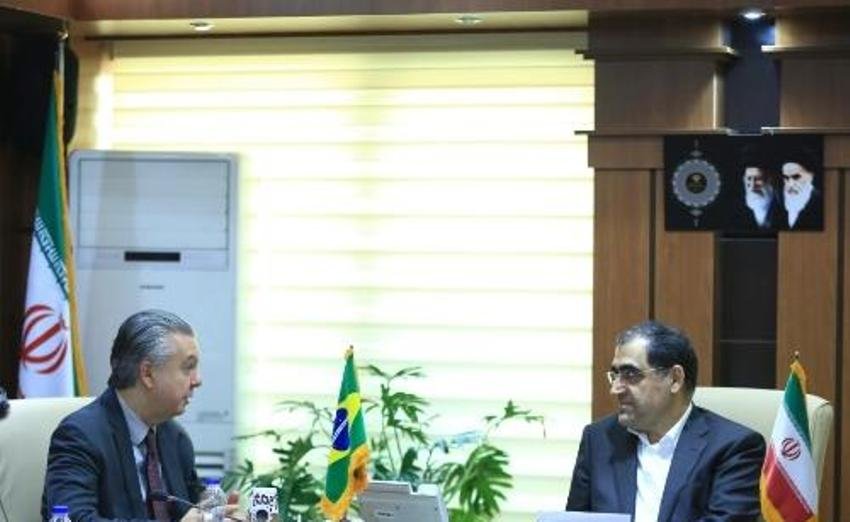 TEHRAN — Importing medicine, raw materials, and medical equipment from Brazil has become one of the objectives of the Iranian Health Ministry after U.S. withdrawal from the Iran nuclear deal (Joint Comprehensive Plan of Action), Health Minister has said.
Hassan Qazizadeh-Hashemi made the remarks in his visit with Brazilian Ambassador to Tehran Rodrigo de Azeredo Santos, IRNA news agency reported on Friday.
The world is not just limited to the Europe and the U.S., Qazizadeh-Hashemi said, adding that the world's condition has changed and different nations have different choices to make [in expanding their international relations].
He also commented on Brazil's new government [under President Jair Bolsonaro] saying that the it should be decided whether the new government is interested in expanding cooperation with Iran and to what extent they would agree on promoting cooperation in pharmaceuticals and medical equipment.
If Brazil would agree on increased cooperation the only problem which is left is the long distance between the two countries which make it difficult for the two sides to familiarize themselves with each other's potential in health sector and it should be addressed promptly, the minister highlighted.
He went on to say that "I personally believe that Brazil can be of greater help to Iran than some other European countries in medical equipment, pharmaceutical and vaccine importation as well as building hospitals and other health entities in Iran should also believe in the issue."
The one-sided brutal sanctions imposed on Iran for several times is urging Iran to look for new opportunities in other countries rather than Europe and the U.S. for long-term relations, he added.
The minister also highlighted that countries like India and Turkey have expressed interest in increasing cooperation in health sector.
He also expressed hope that introducing new markets to the country would help Iran in achieving resistance economy objectives, improving domestic production, creating new employment opportunities and encouraging self-sufficiency in production of some products.
MQ/MG