Book City to celebrate J. D. Salinger's 100th birthday 
December 30, 2018 - 18:21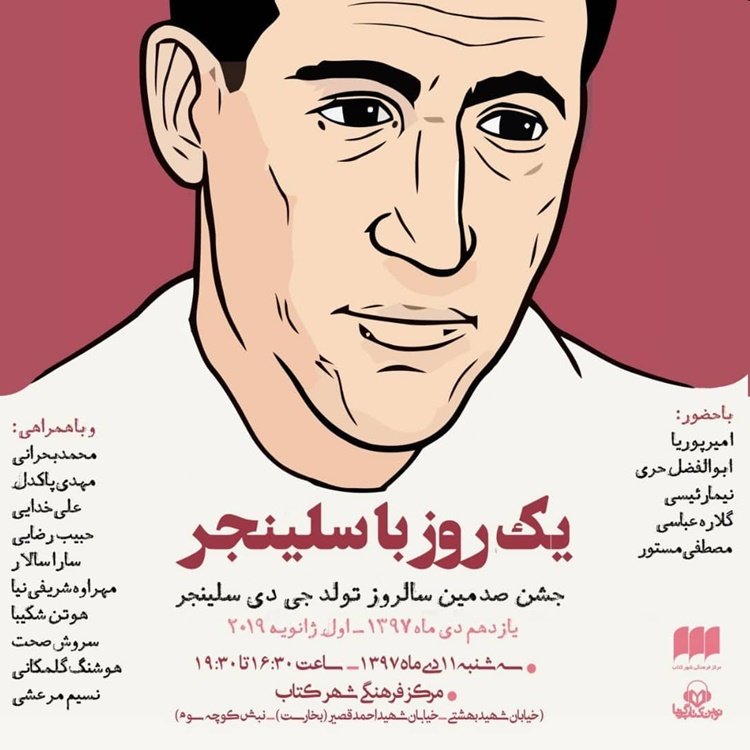 TEHRAN – The Book City Institute in Tehran plans to celebrate the 100th birthday of American writer Jerome David Salinger during a program titled "A Day with Salinger".
"Little, Brown and Company, the American publisher of Salinger's books, is scheduled to celebrate his birthday on January 1 and we also decided to mark the day," the secretary of the celebration, Homeira Afshar, told the Persian service of MNA on Sunday.
"We intend to review Salinger's works and discuss his style of writing, special isolation, and lifestyle during the celebration," she added.
Book City Institute deputy director Ali-Asghar Mohammadkhani and Persian literature scholar Abolfazl Horri are scheduled to deliver speeches and critic Amir Puria will hold a dialogue with writer Mostafa Mastur on Salinger.
Excerpts of several of Salinger's stories will be read live by actors Nima Reisi and Gelareh Abbasi. A number of Iranian celebrities, including Hutan Shakiba and Habib Rezai, will talk about Salinger on videos, which will be screened during the program.
A Persian audio version of Salinger's widely read novel "The Catcher in the Rye" will also be unveiled at the celebration, which will be organized in collaboration with the Novin Audio Book Institute, the publisher of the audiobook.
Two Persian translations of the book by Ahmad Karimi and Mohammad Najafi have been published in Iran.
"The Inverted Forest", "Personal Notes of an Infantryman", "Once a Week Won't Kill You" and "Raise High the Roof Beam" are among Salinger's numerous stories published in Persian in Iran.
Photo: A poster for Book City's program "A Day with Salinger".
MMS