Rouhani: Trump's secret Iraq visit exposed defeat
January 2, 2019 - 20:6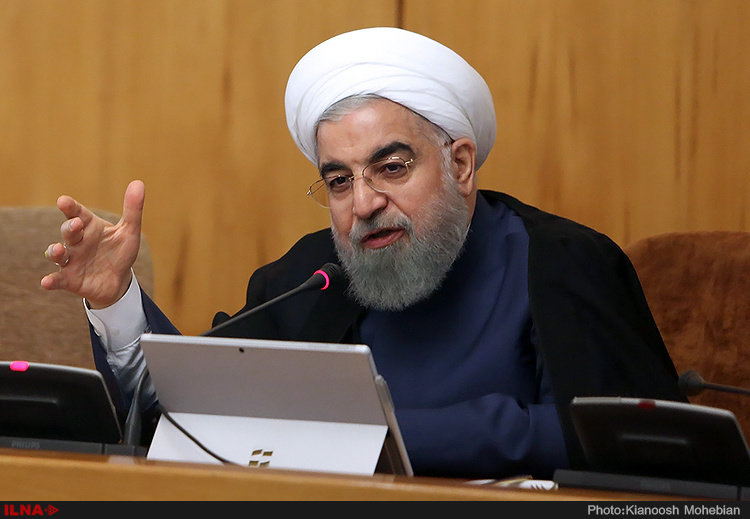 TEHRAN – President Hassan Rouhani says Donald Trump's recent tiptoeing into Iraq was clear sign of the failure of America's agenda for Iraq.
"The fact that you sneak into a military base in the dark of the night,… take some photos with a number of troopers, make a short speech, and then fly away a couple hours later… shows your defeat," Rouhani told a cabinet meeting on Wednesday.
"This means that you have failed. This means that the people of Iraq are malcontent with you and you dare not appear amongst them. You absolutely dare not [do so] in Syria, absolutely not in Lebanon, and no way in Yemen. So by which regional nation specifically are you loved?"
On December 26, Trump spent a few hours at al-Asad Air Base in Iraq's western Anbar Province but did not visit the capital Baghdad. A scheduled meeting between Trump and Prime Minister Adil Abdul-Mahdi was scrapped and they only talked over the phone.
Trump acknowledged the security concerns about visiting Iraq, saying it was "pretty sad" that he needed such secrecy to see U.S. troops.
"Pretty sad when you spend $7 trillion in the Middle East, and going in has to be under this massive cover with planes all over and all of the greatest equipment in the world, and you do everything to get in safely," he said.
The visit sparked a wave of condemnations from Iraqi officials, with some of them demanding the expulsion of American forces.
Rouhani added, "Since 2003, the Americans have been claiming that they have salvaged Iraq and Afghanistan; but if this claim is true, then why don't you openly make an official trip to see how the Iraqis would welcome you on the streets of Baghdad and Basra?"
"I hope these are lessens to be taken by the White House for the year 2019, and to stop interfering with the lives of nations, particularly the Palestinian nation, where they are constantly interfering. To take a lesson and act according to laws and regulations regarding the al-Quds [Jerusalem], which belongs to the entire Islamic world and all Muslims," Rouhani remarked.
SP/PA