Trump's sneaky visit to Iraq disrespect for national sovereignty: Tehran
December 28, 2018 - 20:55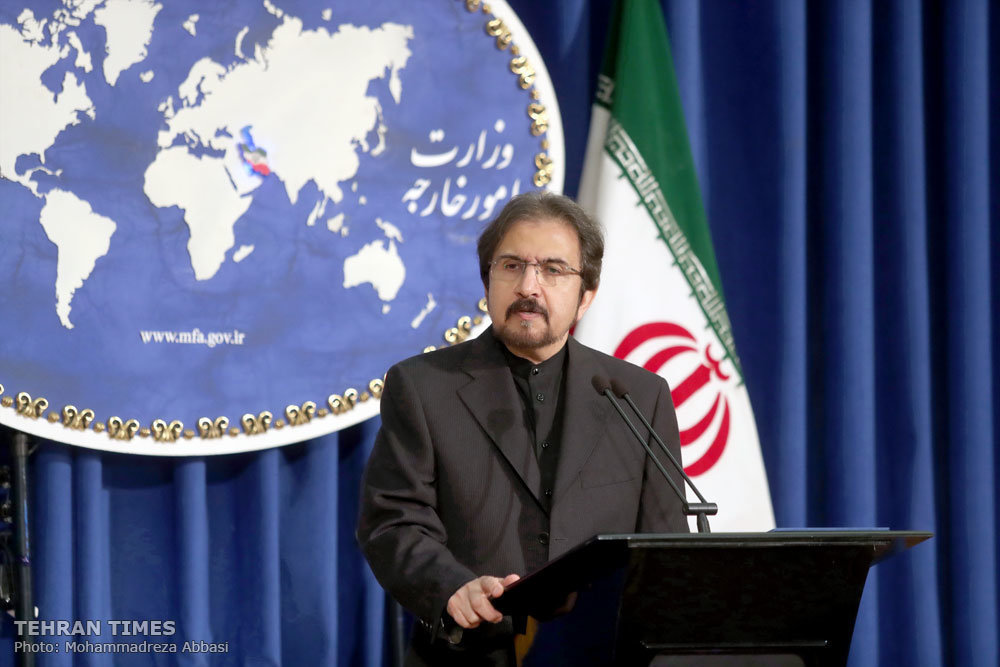 TEHRAN – The Iranian Foreign Ministry on Friday lashed out at U.S. President Donald Trump for his unannounced and secret trip Iraq, describing it as an undiplomatic move that demonstrated disrespect for Iraq's national sovereignty.
"As Mr. Trump himself said in his address to the U.S. military in Iraq's Ein al-Asad … he is now forced to visit one of the regional countries in a totally secret way, or in other words in a sneaky manner, and with tightest protective-security measures," Foreign Ministry spokesman Bahram Qassemi said in a statement.
Trump made an unannounced three-hour visit to the al-Asad Air Base near Baghdad on Wednesday, sparking a wave of condemnation from Iraqi political and military leaders, with some of them demanding the expulsion of U.S. forces.
The Iranian Foreign Ministry spokesman said such a trip comes despite the fact that the U.S. has wasted thousands of billions of dollars in regional affairs and American people have paid irrecoverable price for the U.S. illegal and illegitimate presence in the region, particularly in Iraq.
Qassemi stressed that the visit has sparked criticism by experts, indifference by Iraqi officials as well as the opposition.
The spokesman then severely criticized Trump's meddlesome and opportunist remarks in Iraq, saying, "Regional governments and nations will never allow aggressive and despicable outsiders to sow seeds of division among them."
According to Qassemi, it was the vigilant nations of the region – not the rapacious U.S. and its staunch support for terrorism –which managed to suppress terrorist groups created, equipped and financed by the U.S. and the Zionists.
The regional nations routed terrorists by understanding the situation in the right time and synergizing their material and spiritual powers, he noted.
Qassemi said undoubtedly all regional states will soon come to the conclusion that stability and security in their region will only be achieved by relying on domestic, regional and international resources and capacities.
"Foreign forces, sooner or later, will also have to leave the whole region," he added
The spokesman said it is better for Trump to have a serious and multilateral review of the developments in the world including those in the West Asia region from the time he took office up to now.
A review of what he has said, what has happened, and what may happen in the future will perhaps teach Trump the required lessons, Qassemi noted.
In an exchange with reporters shortly after landing in Iraq, Trump acknowledged his security concerns about visiting Iraq, saying it was "pretty sad" that he needed such secrecy to see U.S. troops.
"Pretty sad when you spend $7 trillion in the Middle East, and going in has to be under this massive cover with planes all over and all of the greatest equipment in the world, and you do everything to get in safely," he said.
A scheduled meeting between Trump and Iraqi Prime Minister Adil Abdul-Mahdi was scrapped and they only talked over phone.
Abdul-Mahdi's office said in a statement that the cancellation came as a result of "disagreement over how to conduct the meeting."
The U.S., backed by the UK, invaded Iraq in 2003 under the pretext that the former regime of Saddam Hussein possessed weapons of mass destruction. No such weapons, however, were ever found in the country.
The invasion led to the rise of terrorist groups such as Daesh.
The U.S. and a coalition of its allies further launched a military campaign against purported Daesh targets in Iraq in 2014, but their operations have in many instances led to civilian deaths and generally spared the terrorists.
SP/PA