Iran's defense power belongs to all Muslims: Hatami
January 7, 2019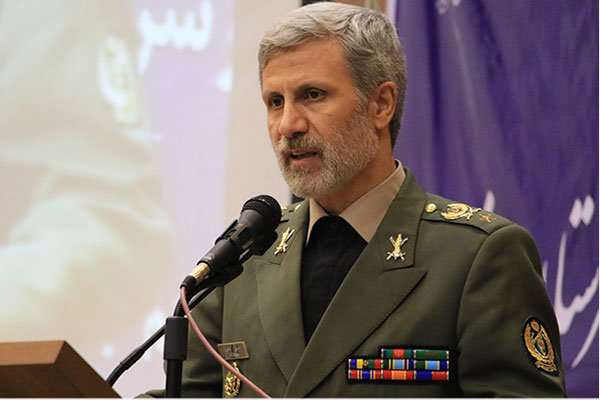 TEHRAN – Defense Minister Amir Hatami said on Monday that Iran's defense power belongs to all Muslims and friendly countries.
"The Islamic Iran's defense power belongs to all Muslim brothers and friendly countries," he said in his speech at a conference on defense and security in West Asia held at Supreme National Defense University.
The minister added Iran "believes that the intervening powers and certain puppet regimes of the U.S. will not be safe from consequences of spreading insecurity in the region."
The defense chief reiterated Tehran's long-held position that the regional countries are able to restore security and stability to West Asia through cooperation and coordination.
The minister added, "Iran's military strategy is deterrence and we do not seek arms race with other countries. We propose cooperation among the regional countries based on the Islamic principles."
Elsewhere in his remarks, Hatami said, "Reactionary countries cannot provide security for themselves through spreading division and causing chaos."
Referring to the planned U.S. withdrawal from Syria, he said the pullout shows end of the West's hegemonic system.
He noted that the West is no longer a cornerstone in creating security in the region and the U.S. forces' withdrawal from the region shows Washington's strategic defeat.
President Donald Trump announced on December 19 that the U.S. troops had defeated the Daesh terrorists in Syria and he sought to pull some 2,000 U.S. troops out of Syria.
Hatami also pointed to the U.S. act in quitting the 2015 nuclear deal, saying the move has revealed the true face of the U.S.
"The U.S. withdrawal from the JCPOA [the Joint Comprehensive Plan of Action] has revealed the true face of the U.S. more than ever and showed that the U.S. uses any tool to harm independence of the countries," he said.
Trump withdrew the U.S. unilaterally from the 2015 JCPOA in May and ordered sanctions against Iran. The first round of sanctions went into force on August 6 and the second round, which targets Iran's oil exports and banks, were snapped back on November 4.
'Talks with Taliban aimed to stabilize Afghanistan'
Speaking on the sidelines of the security conference in West Asia, Hatami said Iran's talks with Taliban are aimed at restoring peace and stability to Afghanistan.
The Foreign Ministry announced that Iranian diplomats held a meeting with a Taliban delegation in Tehran on December 30. Abbas Araqchi, the deputy foreign minister for political affairs, headed the Iranian negotiating team.
NA/PA