Iran, Syria to set up joint bank in Damascus
January 30, 2019 - 20:14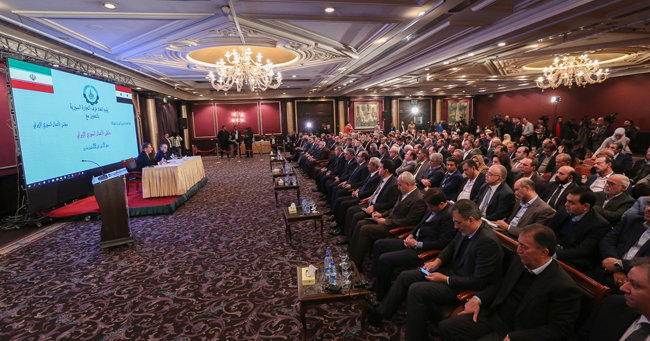 TEHRAN- Central Bank of Iran's Governor Abdolnaser Hemmati announced that based on the agreement signed between Iran and Syria on Tuesday for developing and facilitating bilateral banking relations, the two countries will set up a joint bank branch in Damascus, IRNA reported.
"Based on the agreement, banking relations between the two countries are established and the license to establish a joint Iranian-Syrian bank in Damascus is also to be issued. This will enable the two sides' banks to conduct transactions in their local currencies." Hemmati said in an Instagram post.
The agreement is part of the two countries' efforts aimed at boosting trade and investment between the two sides as Damascus looks to its ally Tehran to help rebuild from war.
The document was one of the 11 long-term cooperation agreements Iran and Syria signed on Tuesday during a two-day visit of a high-ranking Iranian delegation led by First Vice President Es'haq Jahangiri to Syria.
Also, during the Iranian delegation's stay in Syria, an Iran-Syria business forum was held in Damascus on Tuesday which was attended by senior officials and businessmen from both sides, the portal of Iran Chamber of Commerce, Industries, Mines and Agriculture (ICCIMA) reported.
During this event, a 25-member trade delegation headed by Gholam-Hossein Shafeie, the chairman of ICCIMA, gathered with Syrian counterparts to explore ways of developing trade ties between the two countries.
Jahangiri and Hemmati as well as Mahmoud Hamsho, the secretary general of the Federation of Syrian Chambers of Commerce, were also among the participants of the business gathering.
On the sidelines of the forum, the two countries' chambers of commerce signed an agreement to establish a joint economic committee.
The joint committee is comprised of 10 Syrian members as well as 10 Iranian businessmen and the Syrian members are due to visit Tehran in the upcoming months.
EF/MA