Seven foreign ambassadors submit credentials to Rouhani
Rouhani says unity in Venezuela will foil U.S. plots
February 2, 2019 - 20:8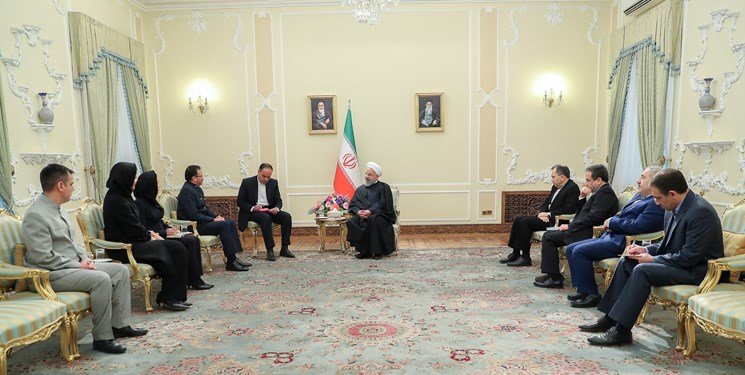 TEHRAN – President Hassan Rouhani on Saturday separately received credentials of the new ambassadors of Venezuela, Pakistan, Kazakhstan, Croatia, Tunisia, Mali and Sierra Leone.
In his meeting with the new Venezuelan Ambassador to Tehran Carlos Antonio Alcala Cordones, Rouhani said the unity between the Venezuelan government and people will foil the conspiracies organized by the United States.
He reaffirmed Iran's support for the legitimate Venezuelan government, underlining that through unity the Venezuelan people should prove to Washington that they will not let the U.S. interfere in their country's internal affairs.
For his part, Ambassador Cordones said that in this new conspiracy "we are facing the global imperialism and the people of Venezuela will win this fight."
He added, "In our fight against imperialism and conspiracies, we are counting on our good friends, including Iran."
'Iran-Pakistan gas pipeline is hoped to be completed soon'
Speaking with Pakistan's new Ambassador Riffat Masood, Rouhani said Iran is looking forward to working closely with the new government in Pakistan in order to further strengthen bilateral relations.
He also said Tehran hopes the long-delayed Iran-Pakistan (IP) gas pipeline will be completed soon, because it is of great significance for both countries.
Masood said she is confident that the close, historical ties between the governments and people of the two countries and the strong political will on both sides would provide an impetus to bilateral relations that will also bode well for peace and stability in the region.
'Kazakhstan has political resolve to develop ties with Iran'
In the meeting with the new Kazakh ambassador to Tehran, the Iranian president called for efforts to enhance bilateral economic cooperation, saying the two nations share stances on many regional and international developments.
For his part, the new Kazakh envoy congratulated Iran on the 40th anniversary of victory of the Islamic Revolution, highlighting his country's political resolve to develop ties with Iran.
'U.S. sanctions have no impact on Tehran's ties with other countries'
Meeting with Croatia's new ambassador, Rouhani said both countries can have extensive cooperation, especially in energy and financial fields.
He also said the U.S. sanctions can leave no impact on Iran's relations with other countries.
For his part, the Croatian ambassador said he is happy with the creation of the European Union's payment mechanism with Iran to bypass U.S. sanctions, predicting that this mechanism can help strengthen relations between Zagreb and Tehran.
The ambassador also said Croatia will use any opportunity to improve relations with Tehran.

'More amicable relationship with Tunisia'
Rouhani told Tarek Bettaieb, Tunisia's new ambassador to Iran, that "we are willing to develop a more amicable relationship between the two nations of Iran and Tunisia and expand the mutual cooperation."
He further stressed the necessity to use the existing capacities to expand economic relations and encourage the private sectors of the two countries.
'Readiness to develop scientific ties with Mali and Sierra Leone'
The president also met with the new Ambassador of Mali to Tehran, saying the Islamic Republic of Iran is ready to develop scientific and academic, as well as agricultural relations with African countries, including Mali.
In his meeting the new Ambassador of Sierra Leone, Rouhani expressed Tehran's readiness to boost cooperation with Freetown in all fields of mutual interest, saying, "We are ready to develop scientific and cultural relations and cooperation with Sierra Leone."
President Rouhani also met with Iran's new ambassadors to Turkey, the Netherlands, the Czech Republic and Brunei before their departure.
He wished the new ambassadors luck and asked them to spare no efforts to strengthen Iran's relations with those countries.
MH/PA