Seven ambassadors deliver credentials to Rouhani
October 16, 2018 - 19:41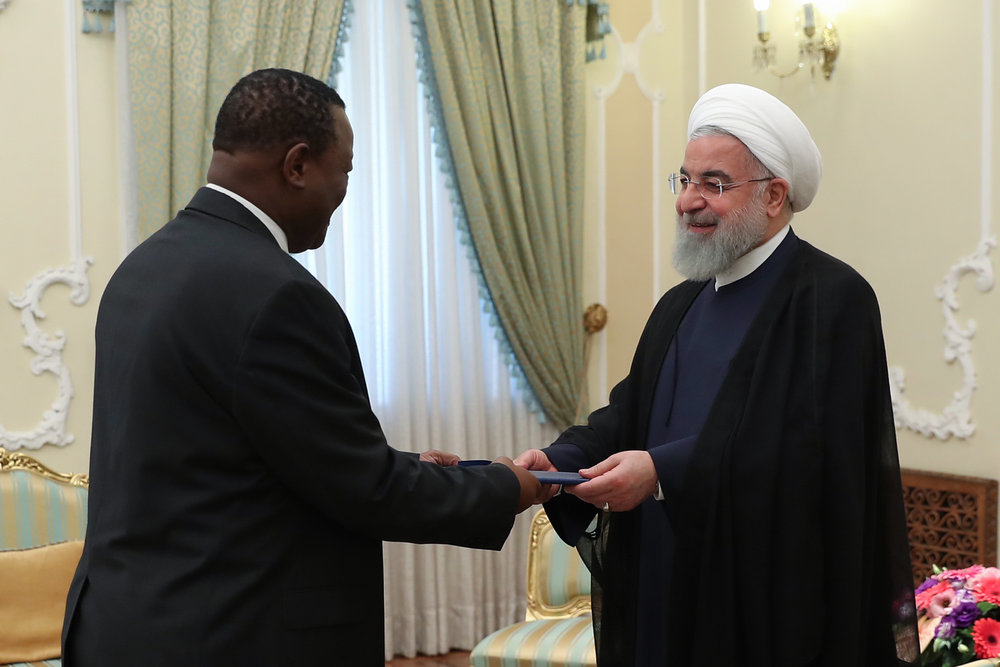 TEHRAN – Ambassadors from seven countries separately handed over their credentials to President Hassan Rouhani and held talks with him.
During his meeting with Japanese Ambassador Mitsugu Saito, Rouhani said that investment by the two countries' private sector is essential to strengthen economic ties.
Rouhani noted that Iran and Japan share common views on many issues.
For his part, Saito said that Japan seeks expansion of relations with Iran.
Ambassador Saito said that Japanese companies will continue cooperation with Iran in spite of the U.S. sanctions.
'Iran ready to boost cooperation with European Union'
In his meeting with Veronique Petit, the new ambassador of Belgium, Rouhani said that Iran is ready to expand political and economic relations with the EU states, especially Belgium.
He noted that there is no impediment to closer ties.
The Belgian ambassador, for her part, called the 2015 nuclear deal a "great success" at the international arena.
The EU has been making any efforts to preserve the JCPOA, said Ambassador Petit whose country is the capital of the European Union.
'Iran, Qatar are determined to expand ties'
During his meeting with new Qatari Ambassador Mohammed Hamad Saad al-Fahid al-Hajeri, Rouhani said that Tehran and Doha are determined to expand ties.
He noted that closer ties between the two countries are beneficial to the whole region.
The Qatari diplomat said that Doha seeks to expand relations with Iran in line with interests of the two countries.
In a separate meetings with Senegalese Ambassador Amadou Sow, the president said that Iranian companies are ready to expand activities in Senegal.
The Senegalese diplomat welcomed expansion of ties.
Samir Veladzic, the new ambassador of Bosnia and Herzegovina, and Rouhani also called or closer ties between the two countries.
Rouhani calls South Africa a 'close friend'
In his meeting with Vika Mazwi Khumalo, the new South African ambassador, Rouhani said that Iran considers South Africa a "close friend".
He noted that the two countries have good capacities to expand relations.
For his part, the South African diplomat called for expansion of relations, especially in economic area.
The Iranian president also discussed expansion of relations with the new Dutch Ambassador Jacques Louis Werner.
Rouhani told the Dutch envoy that the nuclear deal should be preserved after the U.S. unilateral withdrawal from the international agreement.
In the talks with Ambassador Louis Werner, whose country is home to the United Nations' top court, Rouhani said, "I hope ruling of the International Court of Justice would change the U.S. administration's illegal behavior, especially on the issue of inhuman sanctions."
The ICJ ordered the U.S. on October 3 to lift sanctions on "humanitarian" goods to Iran.
ICJ unanimously ruled that Washington "shall remove by means of its choosing any impediments arising from the measures announced on May 8 to the free exportation to Iran of medicines and medical devices, food and agricultural commodities" as well as airplane parts, said judge Abdulqawi Ahmed Yusuf.
Five new Iranian ambassadors to foreign countries meet Rouhani
Rouhani also held a meeting with new Iranian ambassadors to Spain, Kuwait, Romania, Bangladesh and Sierra Leone.
He called on the ambassadors to make any efforts in line with expanding relations with other countries.
NA/PA