Rouhani receives credentials of six ambassadors
October 31, 2016 - 21:20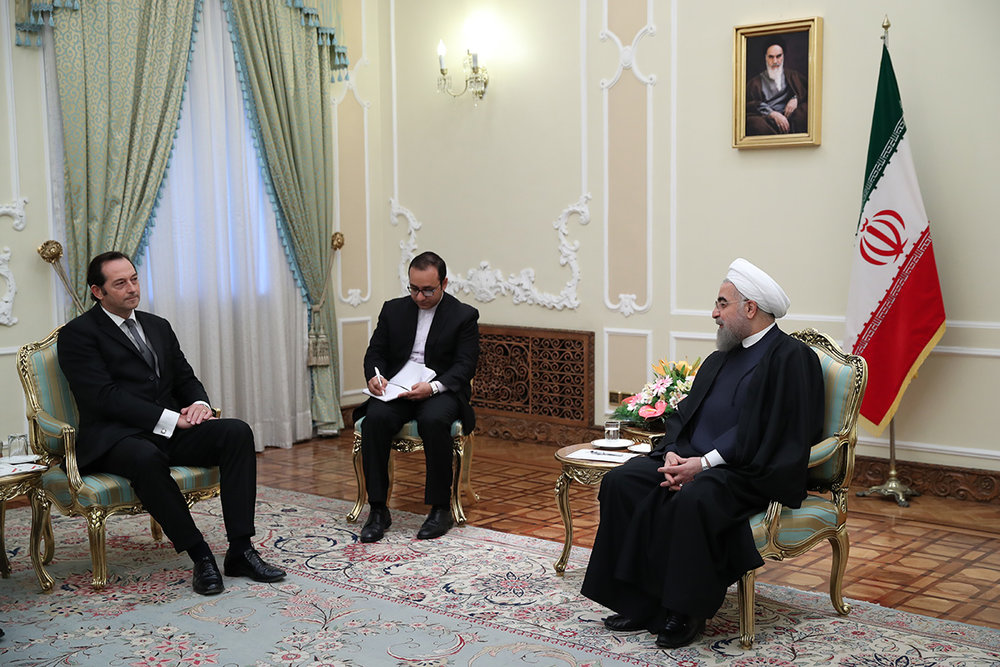 TEHRAN – In separate meetings on Monday, the new ambassadors of Britain, Sweden, Moldova, Sierra Leone, Albania and Colombia submitted their credentials to Iranian President Hassan Rouhani.
During the meetings with the ambassadors, Rouhani said Tehran is willing to expand relations with their respective countries.
During the meeting with British Ambassador Nicholas Hopton, Rouhani said the nuclear deal, officially called the JCPOA, has provided a situation to make up for the lost opportunities to promote economic, political, scientific and cultural ties and also establish full banking relations.
For his part, Hopton said many advances have been made in relations. He also said British banks are willing to cooperate with the Iranian corporations.
Britain was one of the six countries that Iran struck the nuclear deal with in July 2015. The agreement took effect in January 2016.
'No restriction in ties with Moldova'
In his meeting with Gheorghe Leuca, the ambassador of Moldova, Rouhani said there is no restriction for Iran and Moldova to expand relations. Leuca also called for expansion of relations with Iran.
'Ties with S. Leon growing'
Rouhani also told Sierra Leonean Ambassador Almamy Camara that the relations between the two countries are "friendly and growing".
Camara also said that Sierra Leone is determined to expand ties with Iran in various areas especially in fighting terrorism.
'Cooperation in tourism industry'
In the meeting with Genti Gazheli, Albanian ambassador, Rouhani said Iran is interested in expanding relations with Albania in areas of economy, culture, tourism and science.
'Voice of peace cause happiness'
The Iranian president also told Colombian Ambassador Juan Alfredo Pinto Saavedra that "the voice of peace and friendship, no matter which country it comes from, will cause happiness because conflict, war and clash lead only to extermination of human beings and communities."
'Nuclear deal has opened opportunities for Iran, Sweden'

The nuclear deal has created many opportunities for Iran and Sweden to expand their ties, Rouhani told Helena Sangeland, the female Swedish ambassador.
Sweden can also play a constructive role in boosting cooperation between Iran and the European Union, Rouhani suggested.
For her part, Sangeland said the Swedish government seeks to deepen ties with Iran. She added the Swedish banks and corporations are also interested in doing business with Iran.
On Monday, Iran's new ambassadors to eight countries also met with Rouhani.
Rouhani called on the ambassadors to clarify on Iran's new investment opportunities in the country of their mission.
Vahid Karimi, Mohammad Ali Sobhani, Mohammad Hassan Habib Zadeh, Hossein Karimi, Morteza Mortazavi, Nosratollah Maaleki, Hossein Molla Abdollahi and Hamidreza Nateq Nouri, have respectively been named as Iran's new ambassadors to Namibia, Qatar, Norway, Macedonia, Uganda, Ghana, Serbia and Bulgaria.
NA/PA