President receives credentials of ambassadors of Ukraine, Togo, Iceland, Bangladesh, Lithuania, and Macedonia
Six ambassadors submit credentials to Rouhani
May 3, 2016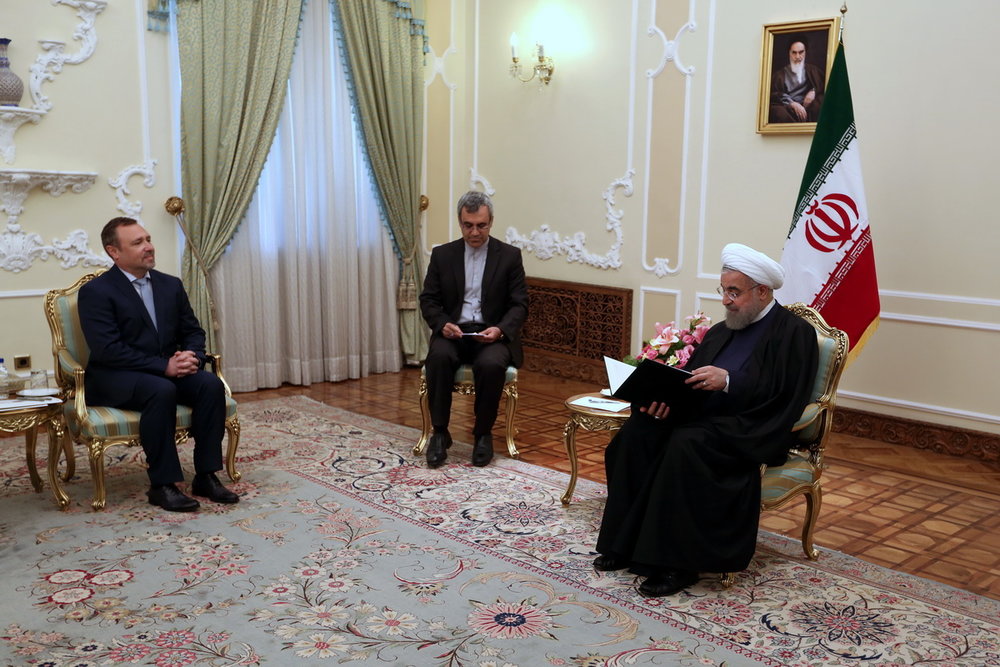 TEHRAN – In separate meetings on Tuesday President Rouhani received the credentials of the new ambassadors of Ukraine, Togo, Iceland, Bangladesh, Lithuania, and Macedonia.
In his meeting with Sergei Burdiliak, the new ambassador of Ukraine to Tehran, Rouhani said the post-JCPOA atmosphere and removal of sanctions on Tehran have created opportunities to expand ties between Iran and Ukraine.
"The Islamic Republic of Iran welcomes expansion of relations between the two countries in areas of economy, politics and culture," Rouhani said.
Rouhani highlighted the necessity of using the two countries' capacities to expand ties.
Burdiliak evaluated prospect of Tehran-Kiev ties as "positive" and called for expansion of relations.
Rouhani also told the new Ambassador of Togo Mohamed Sad Ouro-Sama that "expansion of relations and cooperation with the African countries is a principled policy of the Islamic Republic of Iran."
Iran is ready to expand relations with Togo in various areas, Rouhani added.
Rouhani also told Hermann Ingolfsson, the new ambassador of Iceland to Iran, that "Tehran welcomes expanding and deepening relations with this country in spheres of economy, new technologies and renewable energies."
For his part, Ingolfsson said Iceland attaches great importance to ties with Iran.
------'Iran supports expansion of ties with Bangladesh'
In the meeting with the Bangladeshi ambassador Mujeeb al-Rahman, Rouhani said that the Iranian government and people support support expansion of ties with Bangladesh as a "friendly and Islamic" country.
He said that the new ambassador of Bangladesh is duty bound to lay the ground for expansion of ties.
The new Lithuanian Ambassador Audrius Bruzga Branko Milic and the new ambassador of Montenegro also submitted their credentials to Rouhani.
NA/PA