There will be no regression in Iran: Rouhani 
February 5, 2019 - 19:39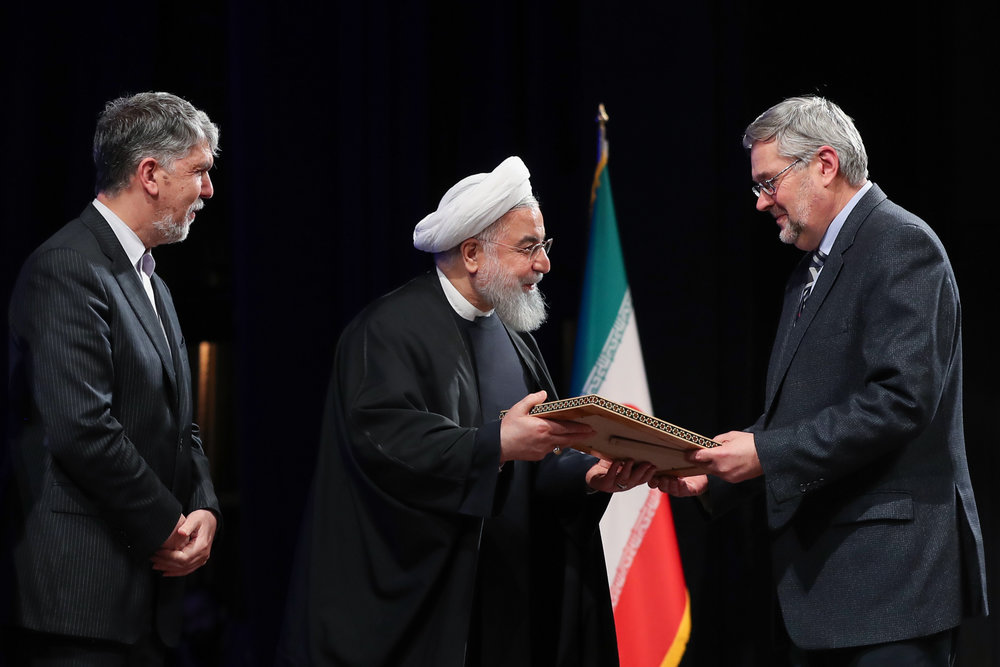 TEHRAN – President Hassan Rouhani addressing the U.S. government on Tuesday said that there shall be no regression in Iran.
He made the remarks during the 36th Iran's Book of the Year Awards held at Tehran's Vahdat Hall.
He pointed to the history of relations between Iran and the United States and said, "We shall never regress because we have chosen the right path as is confirmed by the numbers."
The winning scholars then received their awards from Rouhani.
Canadian scholar Sheila S. Blair's "Islamic Calligraphy" was selected as book of the year in the art category. The book has been translated into Persian by Valiollah Kavusi.
In the story translation section, the award went to British writer Kim Slater's "Smart" translated into Persian by Mojgan Kalhor.
"Be Cautious! The Birds Are at the Breakfast Table", a poetry collection by Iranian author Hossein Tavallai, won the award in the children's book section.
Iranian novelist Reza Amirkhani's "Salvation" ("Rahesh") won the award in the contemporary prose category.
In the contemporary verse section, the award was shared by "The Sad Soul of a Poet" by Seyyed Reza Mohammadi and "Domino" by Abuzar Pakravan.
Photo: President Hassan Rouhani honors a scholar during the 36th Iran's Book of the Year Awards at Tehran's Vahdat Hall on February 5, 2019. Culture Minister Seyyed Abbas Salehi is also seen in the photo. (President.ir)
MMS/YAW