LEZ scheme cuts black carbon in Tehran air by 44%
February 7, 2019 - 0:56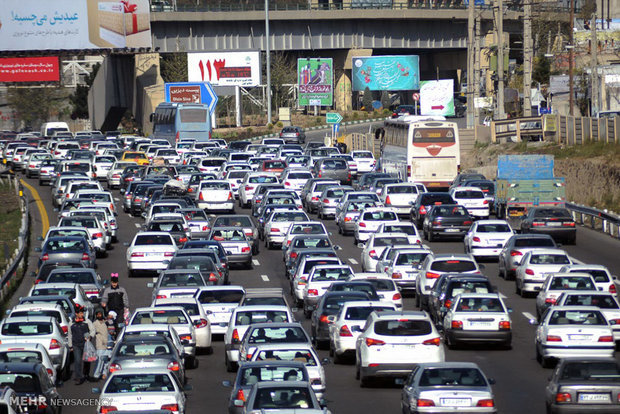 TEHRAN – The low emission zone (LEZ) scheme, mandating vehicle inspection, to reduce emissions which went into effect in the capital three months ago, has led to a 44 percent decline in black carbon emission, ISNA reported on Tuesday.
Black carbon is the sooty black material emitted from gas and diesel engines and other sources that burn fossil fuel. It accounts for a significant portion of particulate matter.
Black carbon is a global environmental challenge that has negative impacts both on human health and climate. Inhalation of black carbon is linked with health problems including respiratory and cardiovascular disease, cancer, and even birth defects. Black carbon also contributes to climate change by causing changes in patterns of rain and clouds.
According to a report published by Tehran Air Quality Control Company, assessing the implementation of the second phase of LEZ scheme, it was effective reducing traffic emissions and consequently curbing air pollution hitting the metropolis of Tehran.
LEZ is a defined area where access by certain polluting vehicles is restricted or deterred with the aim of improving the air quality. This may favor vehicles such as hybrid electric vehicles, or zero-emission vehicles such as all-electric vehicles.
To bring LEZ scheme into effect all the vehicles in Tehran are required to get inspection stickers indicating the level of emission they produce which are easy to track down by the traffic cameras thanks to the newly integrated vehicle inspection system.
The first phase of the scheme started in Tehran on September 5, 2016, aiming to mitigate air pollution in the metropolis, which was running from 6 a.m. to 7 p.m. each day except for holidays, while the second phase is set up to run for 24 hours a day.
According to the traffic and transport affairs public relations of Tehran Municipality, since the beginning of the current Iranian calendar year (March 21, 2018) until two days ago, Tehran's air quality index has been unhealthy for sensitive group for 56 days, while 93 days of unhealthy air for sensitive groups hit the capital during the same period last year.
This year, air quality has not reached unhealthy levels, however, Tehraners have experienced five days of unhealthy air last year due to the LEZ scheme implementation, the report added.
Black carbon emissions fell by 44 percent during autumn this year compared to the same period last year.
As Ahmad Taheri an official with Tehran Air Quality Control Company said on February 2018 that some 60 percent of PM 2.5 fine particles in the city of Tehran are comprised of black carbon produced from fuel combustion in diesel-powered engines.
Particulate matter smaller than 2.5 microns in diameter (PM 2.5), also have decreased by 21 percent during the aforementioned period.
The report comparing PM 2.5 concentration during past 8 years, indicates that since the Iranian calendar year 1389 (March 2010- March 2011), PM 2.5 have put Tehran's air in unhealthy conditions for almost all days, while this year it decreased less than the whole past eight years.
Inspection effective in reducing traffic emissions
Statistics published by the Tehran technical inspection organization, show that since the beginning of the LEZ scheme, some 3.5 million cars have undergone quality inspection, out of which some 70 percent have been referring to the centers for the first time and the rest for the second time, so that the scheme have encouraged the car owners to eliminate the level of emission their cars are producing.
Also, it resulted in a 20 percent increase in the number of car owners referring to technical inspection centers compared to last year and a 50 percent increase compared to two years ago.
Less than 10 percent of the vehicle running in the capital are carbureted engine or clunker, which are 20 times more polluting than ordinary cars, and constitute 90 percent of the air pollution haunting the city.
Moreover, after the scheme being implemented, about 30 percent of the vehicles failed in quality inspection, refer to the inspection center after being repaired, while in the past only 7 percent of them have renovated their vehicles.
For the first time, inspection tests have been conducted for heavy vehicles on the roadsides, through which 2,500 diesel vehicles have been technically tested, regardless of having inspection stickers, 24 percent of the cars failed the tests despite having inspection license, so the scheme even identified the heavy duty vehicles which have not refer to inspection centers for long.
LEZ scheme not to considerably contain PM 2.5
This is while, Mohammad Kazemi, an environmental policy researcher earlier in January said that while LEZ scheme reduced only 1.5 percent of PM 2.5 in the capital.
Kazemi went on to explain that Tehran's air pollution has been a particular concern over the recent years, due to causing problems for the residents' health and daily routine, nevertheless, limited studies have been carried out on determining the main pollutants and their sources in order to identify scientific and efficient solutions.
World Health Organization (WHO) asserts that Tehran is one of the most air polluted cities in the world. Tehran is ranked 12th among 26 megacities in terms of ambient PM10 levels. After Cairo, Tehran is the most polluted non-Asian megacity. In 2016, the annual ambient level of PM10 was estimated at 77 micrograms per cubic meter. This is almost four times the WHO's recommended threshold of 20 micrograms per cubic meter.
According to a report by World Bank published in April 2018 there are about 4.24 million vehicles in Tehran. Cars are the largest vehicle type, with a total fleet of 3.37 million, or 80 percent of all vehicles. The second largest category, in terms of sheer numbers, are motorcycles, amounting to a total of 0.76 million, or 18 percent of total vehicles. The smallest category is heavy-duty vehicles, with a total of 0.1 million vehicles, or about 2 percent of total vehicles in the streets of Tehran.
Even though cars are the most abundant and the most congestion-causing vehicle type on the streets of the capital, they only contribute about 3 percent of the city's mobile PM pollution. Similarly, despite motorcycles being the most pollution intensive vehicle per passenger, they only contribute to about 12 percent of the total mobile PM emissions.
In turn, heavy-duty vehicles contribute about 85 percent to mobile PM emissions. Amongst heavy-duty vehicles, private sector buses (35 percent), followed by Tehran municipal buses (28 percent), and trucks (28 percent), contribute the largest shares to the pollution load. Heavy-duty vehicles mostly run on diesel, which has a much higher PM emissions factor than petroleum or natural gas.
FB/MG