Syed Zafar Mehdi
Kashmir attack: Kashmiri students, traders face backlash from Hindu extremists
February 19, 2019 - 9:57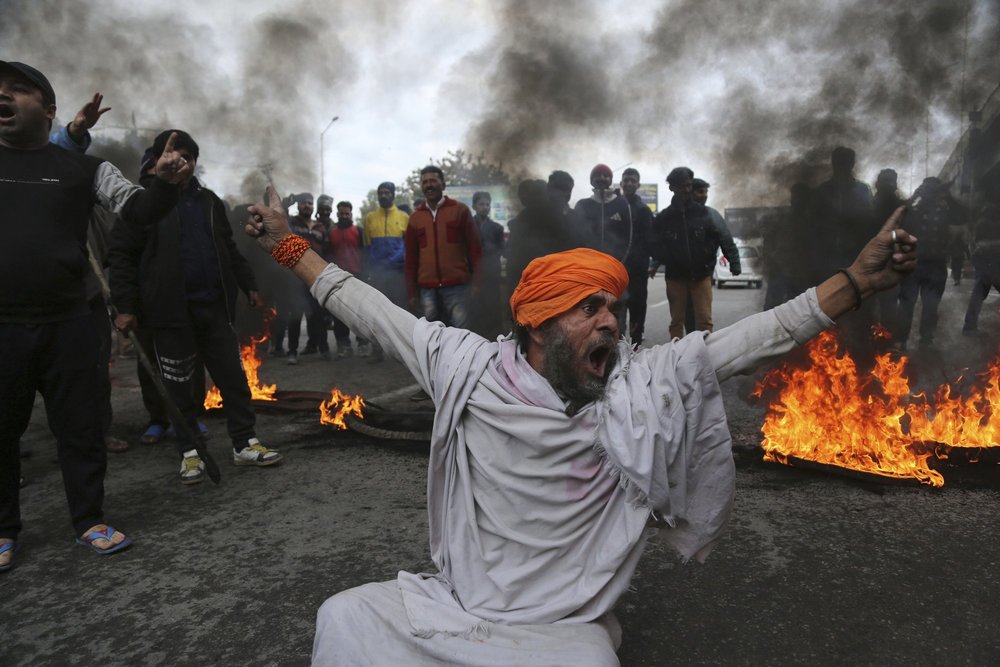 TEHRAN _In the aftermath of the deadly attack in Indian-controlled Kashmir last week, Kashmir Muslims working and studying in different Indian cities are facing a backlash from Hindu extremists.
There have been several reports since Thursday pertaining to threats faced by Kashmiri Muslims in Indian states like Haryana, Uttrakhand, Uttaranchal, New Delhi, and West Bengal etc.
At least 44 members of India's central reserve police force (CRPF) were killed on Wednesday when a suicide bomber rammed his explosive-laden car through a convoy of 77 military vehicles in south Kashmir's Pulwama district.
The responsibility for the attack was claimed by Jaish e Mohammad (JeM), a militant outfit based in Pakistan, and carried out by a 22-year-old militant from south Kashmir.
The attack drew widespread condemnations cutting across the political lines. Even separatist leaders in Indian-controlled Kashmir denounced the attack.
Following the attack, reports of Kashmiris threatened and harassed by Hindu extremists in different Indian cities made it to newspapers, creating a sense of panic among Kashmiris everywhere.
The situation gradually turned so serious that India's interior ministry had to issue an advisory to all states to "ensure their safety and security and maintain communal harmony".
Since Thursday's attack, sources say Kashmiris living outside their state have faced property evictions, job suspensions and attacks on social media, which was the deadliest attack on Indian security forces in Kashmir since the insurgency started in the late 1980s.
In Haryana's Ambala district, a video circulated on social media showed a village headman asking people to evict Kashmiri students in the area.
A report in Huffington Post said a Kashmiri student spent Friday hiding in the room he had rented in the city. "I have never been so scared in all my life," the teenager was quoted as saying.
In Uttarakhand's Dehradun city, 12 students from Kashmir were beaten up by the members of radical Hindu groups Bajrang Dal and Vishwa Hindu Parishad (VHP), forcing the Kashmiri students to lock themselves inside their hostel rooms and rented houses.
"We asked the police for help and they came here, but they are asking us to face the mob and apologize. What should we apologize for? They are calling us traitors, but we haven't done anything to be called that. We can't open the door. We are very scared. We have no one to ask for help," a student was quoted saying by India Today.
To ensure safety and security of Kashmiri students, region's former chief minister Omar Abdullah met India's home minister Rajnath Singh and sought his intervention.
"I took the opportunity to inform Rajnath Singh Sb of the reports I had received of Kashmiri students & others being threatened/harassed and requested him to appoint a nodal officer in HMO India to ensure the directive issued to states is followed in letter & spirit (sic)," he wrote on Twitter.
Condemning the "xenophobic attacks" on Kashmiri students and traders, All India Majlis-e-Ittehadul Muslimeen President Asaduddin Owaisi said, "India cannot let rule of law be replaced by a rule of mobs."
Chairman of Hurriyat Conference, a conglomerate of separatist groups in Indian-controlled Kashmir, Mirwaiz Umar Farooq, also denounced the assault on Kashmiri students and traders.
Mirwaiz said that not only students but Kashmiri businessmen and traders staying in various places in India were also targeted and harassed, forcing many to flee.
The top separatist leader further said that the vicious propaganda against Kashmiris projected by certain sections of Indian media and the distorted image of Kashmir and the discourse around its disputed status have made the lives of Kashmiri staying in India all the more vulnerable to attacks by goons.
So far, attacks on Kashmiri students have been reported from Dehradun, Jodhpur, Ambala, Panchkula, Delhi, and Patna among others.
Meanwhile, in a heartening gesture, many Indians opened their homes to Kashmiri students in different Indian cities, especially New Delhi, and strongly condemned the harassment faced by them.