Persian Gulf Star Refinery to supply half of Iran's gasoline
Rouhani inaugurates projects worth $1.4 billion
February 18, 2019 - 20:39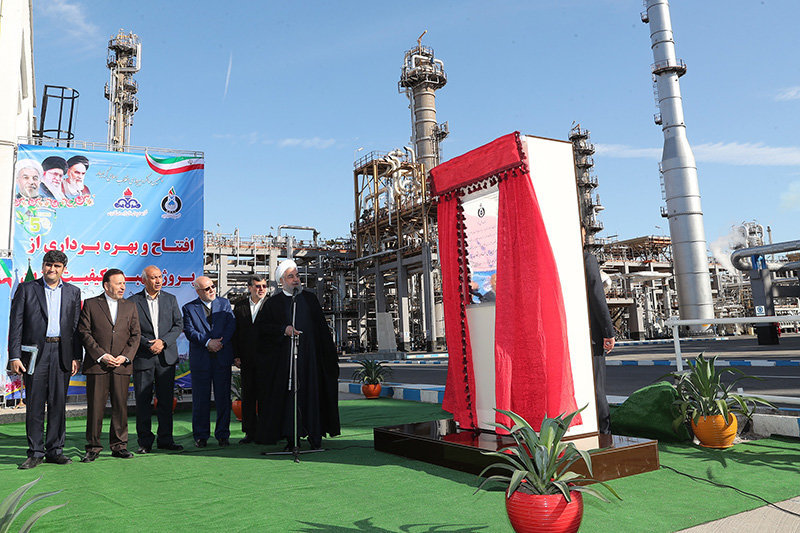 TEHRAN- President Hassan Rouhani put 40 major development projects worth 60 trillion rials (about $1.428 billion) into operation in the southern province of Hormozgan on Sunday and Monday, IRNA reported.
The projects were in energy, roads and urban development, and agriculture sectors and some of them were inaugurated by the president through videoconference.
To boost the Islamic Republic's defense power, Rouhani also unveiled on Sunday a new homegrown submarine armed with cruise missiles.
The president also inaugurated the third phase of Persian Gulf Star Refinery in a ceremony on Monday participated by Oil Minister Bijan Namdar Zanganeh.
The refinery in Bandar Abbas, the capital city of Hormozgan, is the first of its kind designed based on gas condensate feedstock.
Putting the third phase into operation, the refinery's output will reach 45 million liters of uro-5 gasoline, 12 million liters of gas oil, three million liters of LPG, and two million liters of jet fuel per day, Mohammad-Ali Dadvar the managing director of the refinery, announced in the inaugural ceremony.
Boosting the production capacity and promoting quality of gasoline and gas oil produced in Bandar Abbas Oil Refining Company was the other project inaugurated by President Rouhani on Monday.
Putting this project into operation, the refinery's daily Euro-5 gasoline output will hit 12 million liters and its Euro-4 gas oil output will reach 15 million liters per day, Hashem Namvar, the managing director of the company, announced in the inaugural ceremony.
Rouhani also inaugurated 22 port and maritime projects in Shahid Rajaee Port (Iran's largest container port) through videoconference on Sunday night.
Speaking in the inaugural ceremony, Transport Minister Mohammad Eslami put the value of projects, which were supplying 12 modern gantry cranes, at €104 million.
The minister said that putting these cranes into operation while boosting the container capacity of the port to 5.8 million TEUs, jobs are created for 700 people.
As reported, some 23 projects were put into operation in roads and urban development sector during the president's trip to the southern province, including four airport development projects in Bandar Abbas.
Construction of roads in rural areas and renovation of irrigation network were some other projects of the province.
In his two-day visit to Hormozgan, Rouhani was accompanied by a number of senior officials including Oil Minister Bijan Namdar Zanganeh, Transport Minister Mohammad Eslami, Energy Minister Reza Ardakanian, Agriculture Minister Mahmoud Hojjati, Intelligence Minister Mahmoud Alavi, and Defence Minister Amir Hatami.
MA/MA