16,000 clunker buses running in transport fleet nationwide
February 19, 2019 - 9:37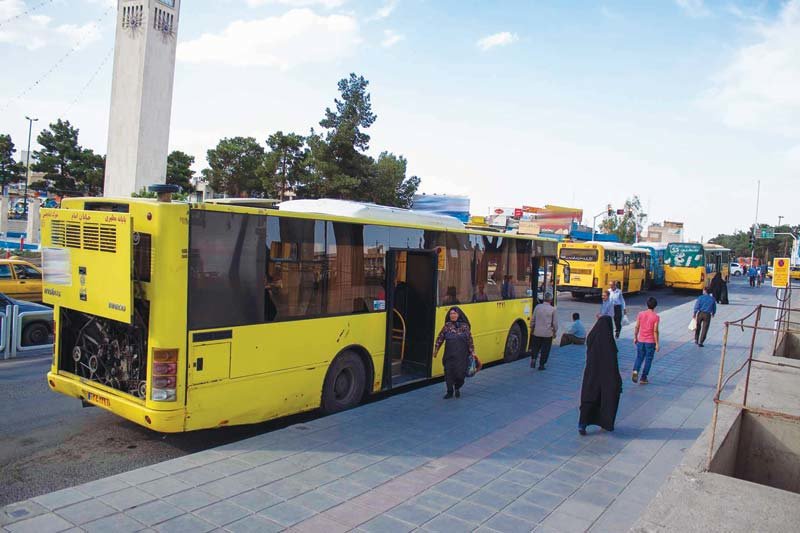 TEHRAN – Some 22,000 busses are operating in the country's public transport fleet, 16,000 of which are clunkers, accounting for 70 percent of the volume of bus transport system, deputy interior minister for urban and rural development has said.
"To encourage people using public transportation rather than private cars in order to curb air pollution, it is essential to develop and promote the transport system," IRNA quoted Mehdi Jamalinejad as saying on Saturday.
Given the country's public transport system being old or aging over 10 years; a plan was proposed by the president to renovate the public transport fleet since the Iranian calendar year 1396 (March 2017-March 2018), according to which 19,000 new buses, 48,000 new minibuses and 6,000 trucks should have replaced the clunker ones, he explained.
The railways system stretching to 295 kilometers across the country is planned to expand to 830 kilometers, he said, adding that currently, 289 kilometers of railroads are under construction and some 245 kilometers are being designed.
Additionally, through renovation of the taxi fleet started since two years ago, 71,000 clunker taxis were scrapped and 61,000 new taxis substituted the old ones, he highlighted.
He went on to add that last year, some 13,909 old taxis discarded from service while the number reached 1,000 this year, so we decided to discuss the issue with manufacturers to increase the number of scrappage.
Referring to a new traffic scheme proposed by Tehran Municipality in an attempt to address persistent air pollution and traffic congestion in the metropolis, he noted that if Tehran city council approves the proposal the new scheme will go into effect by the beginning of summer and air pollution will be contained to some extent.
The new traffic scheme is decided to replace odd-even traffic scheme, based on which all vehicles, regardless of their registration numbers, are allowed to enter the traffic zones 20 days during each season (80 days all year round) for free without paying any fees and those who are planning on entering the zone more should pay taxes to the municipality.
Among the aforementioned plans on air pollution mitigation, metro development is on agenda, as 2,000 subway cars are being purchased to operate in cities of Tabriz, Isfahan, Shiraz, Qom and Mashhad, Jamalinejad stated.
He also added that some 570 cars are scheduled to operate in underground transport fleet of Tehran and Mashhad province, which will be provided as long as €18 million customs clearance fees are paid.
The urban system in the country is poorly managed, as all the facilities and jobs are centered in the urban areas of metropolises, he noted, lamenting, in the near future many of the small cities and villages across the country will be depopulated and many migrate to the big cities.
Migration from small towns to the metropolises contributes to air pollution, lack of facilities and urban problems, so villages and rural areas must be developed to prevent huge migrations, he concluded.
Tehran bus company's director general Peyman Sanandaji said in November 2018 that according to a five-year plan, Tehran must have 9,000 buses while there are only 6,000 buses operating in the capital's transport fleet, of which some 3,000 are clunker and age more than 10 years.
In January, Tehran Mayor Pirouz Hanachi said that while currently some 1,350 railway cars are running in the capital's subway system, it is still facing lack of 2,000 cars.
Ali Mohammadi, an official with traffic police, said in early January that the scrappage of clunker vehicles has decreased by 65 percent in the current Iranian calendar year (started on March 21, 2018) compared to a year earlier.
Clunker cars great deal of emission and cause air pollution especially in metropolises like Tehran. Tehraners have experienced a 17 days of excellent air quality since the beginning of the current Iranian calendar year.
According to health and environmental officials over 70 percent of pollutants in Tehran is produced by clunker vehicles, which are 25 times more polluting than ordinary cars.
FB/MQ/MG