Sierra Leone welcomes Iranian private sector investments
February 23, 2019 - 21:46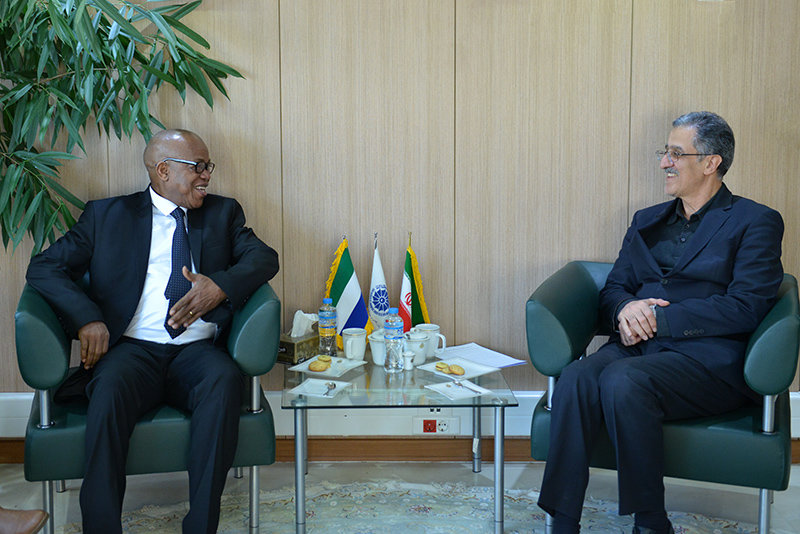 TEHRAN- In a meeting between Ambassador of Sierra Leone to Tehran Alimamy Kamara and Head of Tehran Chamber of Commerce, Industries, Mines and Agriculture (TCCIMA) Masoud Khansari, the African envoy invited Iranian private sector to invest on his country's education and health sectors, the portal of TCCIMA reported.
Iranian private sector can help Sierra Leone with expanding its health centers and equipping its hospitals, Kamara said, while the African country can improve its exports of oil seeds and cacao as well as some minerals to Iran to boost mutual trade.
The TCCIMA head, for his part, voiced readiness of his private body for exchanging trade delegations with Sierra Leone for recognizing mutual cooperation potentials.
Iranian President Hassan Rouhani received the letter of credence of the new Ambassador of Sierra Leone to Tehran in early February.
The Iranian president described the importance of the development of close, friendly relations with African countries, especially Sierra Leone as the western gate to Africa for Iran, adding that "Iran and Sierra Leone can develop their relations and cooperation in different fields."
He also said that the Iranian private sector is ready to deepen ties with Sierra Leone, stressing the development of relations and cooperation between Tehran and Freetown in health, medicine, and agriculture, Mehr news agency reported at the time.
HJ/MA