To clinch World Cup berth for Iran's Jamshidi will be one he won't forget
March 2, 2019 - 19:3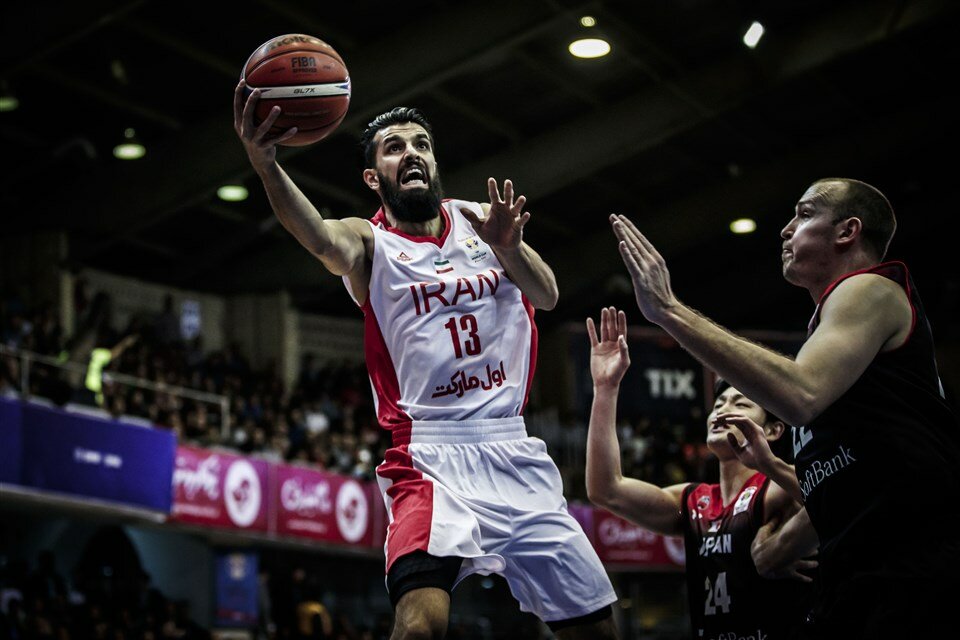 The fans at the Azadi Sports Complex continued to roar on even after the FIBA World Cup Asian Qualifiers match between Australia and their beloved Team Melli had concluded. Iran had not only managed to secure an 85-74 win over the Boomers, they had also clinched their FIBA Basketball World Cup 2019 spot.
The crowd clapped in unison with their brave warriors on the hardwood, chanting out the name of their proud nation.
Among the players on the court who had just braved their way through a tough game was Mohammad Jamshidi.
"Oh my god, that game, I will never forget about it!" Jamshidi exclaimed. "This kind of win is a lifetime memory and the joy we brought to the fans and to the country is amazing. We needed to win to reach a spot for the next FIBA World Cup, and we achieved our goal to go to China this summer and compete at the world stage. The game was intense, we remained focused and we did one of our best games of the campaign, so that was amazing for us. We are very, very happy to be qualified, this race was very tough but we fought through it and we got our spot."
Iran were among one of the final 4 teams in the Asian Qualifiers that were on the hunt to secure one of the three remaining tickets to the World Cup. The race had gone down to the final game which were all played simultaneously, leading to exciting finishes all around similar to the showdown in Tehran.
"I think it was very intense and great to compete in this kind of format," says Jamshidi. "Asia zone has so many teams that can play at a high level now, that is such a great thing for Asian basketball and for basketball [all over the world] in general. This format is also good for the fans, as they were able to see their national team frequently, which is always nice. I really enjoyed the intensity and the fight for the qualifying spots during this campaign, and everyone had the potential to go to China 2019. The teams that qualified, including us, had to play at their highest level and fight to win during every single game."
Iran stumbled early on in the qualifiers with a loss to Iraq, but regrouped to a strong finish. They had to crank it up a notch in the final stretch of 3 crucial games against the Philippines, Japan, and Australia, which they succeeded by coming away with 2 wins. Jamshidi's quality production was key in Iran winning the crucial games versus the Philippines and Australia.
In the first 9 games of the Qualifiers, Jamshidi averaged 6.7 points and 2.4 assists per game. Over the course of the final 3 games, the 1.99M (6'6") guard boosted his output to 28.0 points and 5.3 assists per contest.
"I was focused on helping the team and trying to impact the game as every teammate would do," explained Jamshidi of his outburst. "When you play for the national team, you only want the best and you want to put all of your energy for the jersey and for the country. That is how I feel when I play for the national team and I am happy to have helped the way I did during this campaign and to be impactful in important games, like the last one against Australia, which was the most important of the qualifying campaign. It was our final, our last opportunity to make it to China 2019, and I am glad and satisfied to have done a great game to help my team win."
Jamshidi poured in 25 points and 4 assists while knocking down 10 of his 11 free-throw attempts en route to Iran's victory over Australia and their World Cup qualification. It will be Iran's third straight trip to the World Cup, the longest active streak in the Asian region. For Jamshidi, it will potentially be his second consecutive World Cup appearance after putting up 5.8 points per contest in Barcelona at the 2014 edition of the tournament.
"That would be amazing to compete in this competition for the second time in a row. Competing for your national team is always great and being able to participate in this kind of competition is such a great opportunity to help Iran show to the world that our national team is full of talents. We are still far away from the beginning of the competition, but yes, that is a goal for me to help Iran have a great run next summer in China," Jamshidi says.
In the past two FIBA Basketball World Cups, Iran has finished with identical 1-4 records as a proud representative of Asia. They will be back at that stage once again in September at China to showcase to the world how good they can be. Jamshidi states that Iran's goal at the World Cup will be to make the country proud by playing their best in China. The skilled wingman acknowledges that the level of talent all over the world keeps on rising higher and higher, but he feels that they might be able to make some noise when game time comes.
"It's going to be a great experience and I can't wait to be there. Playing against the best teams and the best players in the world is something unique, and we don't do it often so we want to learn and play good basketball at the FIBA World Cup 2019," Jamshidi says.
There's still a long way to go before the FIBA Basketball World Cup 2019 and a part of that journey includes the World Cup draw in Shenzhen, China on March 16. Jamshidi says that he doesn't have any preferences on who he would like to see Iran be grouped with, knowing that all teams will be solid since every qualified team will be very competitive. His focus is less on who he might be playing against and more on the opportunity to be there.
"I am excited for the overall experience and for playing at the world stage representing my country."
Source: FIBA