Rouhani to meet Ayatollah Sistani in landmark Iraqi trip: ambassador
March 9, 2019 - 20:17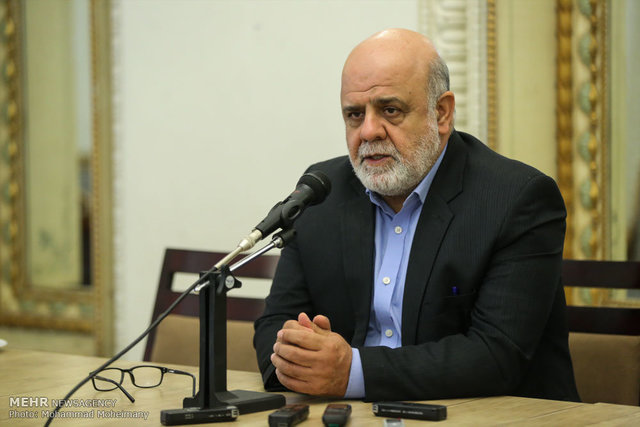 TEHRAN – Iran's ambassador to Iraq says President Hassan Rouhani will be meeting Ayatollah Ali al-Sistani in his next week's trip to Iraq.
Speaking on Saturday, Iraj Masjedi said Rouhani's three-day trip which will start on Monday will be a "turning point" in the history of Tehran-Baghdad relations.
The ambassador said Rouhani will be leading a delegation of senior officials to Baghdad with the aim to push for stronger ties in political, economic, and cultural arenas between the two neighboring nations.
Some agreements are set to be reached during the trip, including the Khorramshahr-Basra railway, development of industrial zones, visa issues, customs relations, cooperation in the health sector, and the 1975 Algiers Agreement.
The 1975 Algiers Agreement (commonly known as the Algiers Accord, sometimes as the Algiers Declaration) was an agreement between Iran and Iraq to settle their border disputes and conflicts (such as the Arvand Rud), and it served as basis for the bilateral treaties signed on 13 June and 26 December 1975.
"The issue at hand is the operationalization of the Algiers agreement, because the implementation of the pact should kick off and measures such as the dredging of the Arvand Rud, unloading of sunken ships, and revitalization of Khorramshahr, Abadan, and Basra ports should be taken," the Iranian diplomat said.
Masjedi also said Iran is requesting revocation of visa between the two countries, however the Iraqi government is not ready to do that due to security concerns and lack of necessary infrastructure.
He pointed out that Iraq is currently the biggest market for Iranian businesses, adding that attempt is being made to improve trade ties between the two countries to $20 billion per year, up from the current level of $12 billion.
Iraqi officials in November 2018 said that Iraq had agreed with Iran to exchange Iraqi food items for Iranian gas and energy supplies.
SP/