Kashmir newspapers run blank front pages
March 12, 2019 - 10:8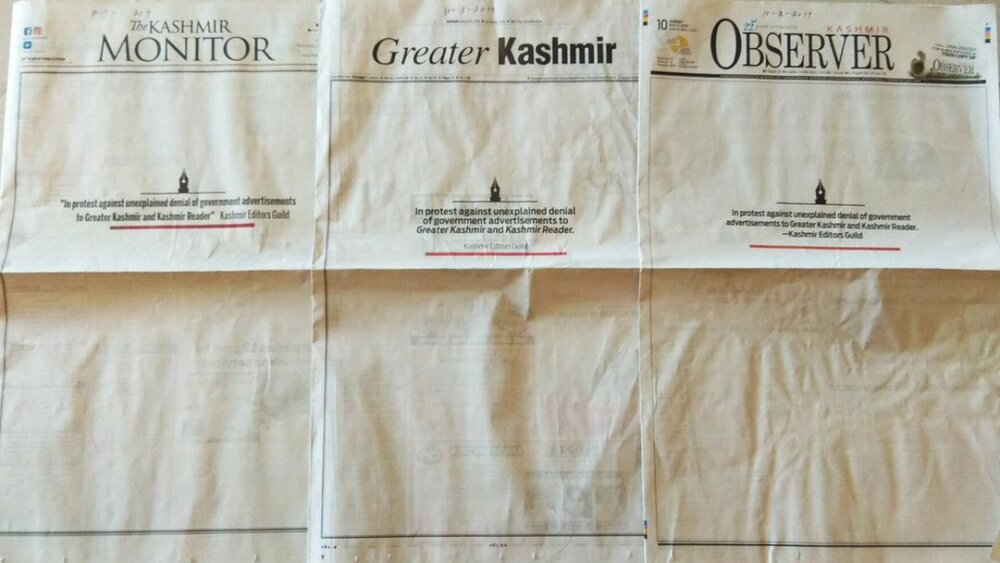 TEHRAN - To register their protest against the government's move to stop advertisements to two prominent newspapers in Indian-controlled Kashmir, newspapers in the region ran blank front pages on Sunday.
More than 13 newspapers published from the Himalayan region ran blank front pages in solidarity with Greater Kashmir and Kashmir Reader – two widely read dailies in Kashmir.
The front pages of the newspapers on Sunday carried a two-line caption, which read: "In protest against the unexplained denial of government advertisements to Greater Kashmir and Kashmir Reader."
Officials of the Kashmir Editors Guild (KEG), a group of Kashmir-based editors, staged a protest on Sunday and raised the issue with the Press Council of India and the Editors Guild of India.
"We have registered our protest against the stopping of advertisements to the two widely circulated dailies. Despite our repeated attempts to know the reasons behind the move, the government has failed to furnish any so far. We were forced to run the front pages as blank in protest," Bashir Manzar, KEG member, was quoted as saying by The Hindu.
The advertisements were "abruptly" stopped to the new dailies in the middle of February, the KEG said.
Mainstream political parties in the disturbed region also came out in support of the newspapers.
"The government is attempting to choke the media by denying them advertising revenues. I hope the Centre and the State immediately reverse this decision of trying to silence the fourth estate," said Omar Abdullah, who heads National Conference (NC) party.