By A. G. Noorani
Kashmir matters, and Kashmiris too
March 18, 2019 - 22:20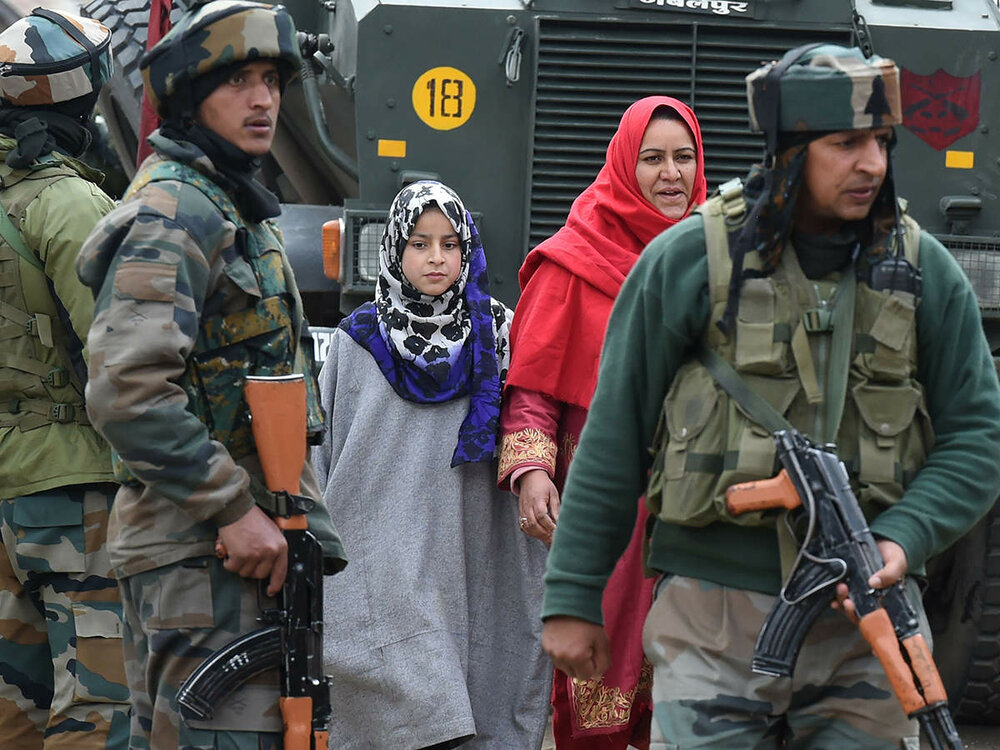 TEHRAN- Relations between India and Pakistan have nosedived since Narendra Modi became prime minister in 2014. If anyone thought that he would make up the loss by a conciliatory policy towards Kashmiris, they were mistaken. It was never part of his agenda. The Rashtriya Swayamsevak Sangh (RSS) would have none of it. The game is to accuse dissent within Kashmir as a movement that is Pakistani sponsored, and ruthlessly crush it.
At least a decade ago, Mirwaiz Umar Farooq had warned that alienation was on the rise and leaders of the All Parties Hurriyat Conference were fast losing influence over the insurgents. He has nothing to offer them except snubs.
Muslim-majority Kashmir was an eyesore. Modi aspired to plant an RSS-led government there backed by a massive Jammu vote and a few seats from the Valley won by hirelings. Coalition was the first step. The goal is to fulfil the aim of repealing Article 370 of India's constitution, which guarantees Kashmir's autonomy, and its corollary Article 35-A. It guarantees its "permanent residents" special rights and privileges on acquisition of immoveable property on employment by the government, barring non-Kashmiris.
Petitions are pending in the Indian supreme court to nullify Articles 370 and 35-A and thus bring Kashmir on a par with states by stripping it of its "special status".
On Feb 25, PDP leader and former chief minister Mehbooba Mufti said: "If anything like [tinkering with Article 35-A] happens, its consequences would be - I have said it earlier and my words were not taken well - that it would be difficult for those who raise the flag of [India] to even shoulder it. If [Article 35-A] is attacked, I don't know that which flag the people of Jammu and Kashmir would raise...." A joint strategy, across the political divide, to safeguard the special position of Jammu and Kashmir is necessary. Will the leaders rise to the occasion?
The National Investigation Agency has been targeting Kashmir's leaders on charges inter alia of money laundering and 'terror funding'. On Feb 26, it raided the homes of the Mirwaiz Umar Farooq, Mohammad Yasin Malik, Shabbir Ahmed Shah and a son of Syed Ali Shah Geelani who has been under house arrest for years. Geelani Shah has been in precariously poor health. With the decline of the Hurriyat, these three formed the Joint Resistance Leadership, which soon acquired a standing in popular esteem. On Feb 23, 150 separatists were detained by police in a midnight swoop.
Prime Minister Modi faced the same spectacle as his predecessors did whenever they went to Kashmir - a total boycott. That did not deter him from declaring in Srinagar, on Feb 3, that his government would "break the back" of militancy in Kashmir. History demonstrates that no fighting that has roots in the people's sentiments can be extinguished by brute force. That is what Modi seeks to do. He is certain to fail.
On Feb 3, a senior army official said that as many as 191 local youth joined various outfits in Jammu and Kashmir last year, 65 more than 2017 when 126 locals had joined these ranks. He said of the 191 recruits in 2018, 139 hailed from southern Kashmir areas - the highest, 59, were from Pulwama. In 2016, 88 Kashmiri youth had joined the fighters. Since 2016, there has been a constant rise in the number of youths becoming part of the insurgency. The year 2013 marked the lowest point in recruitment. Significantly, it rose since 2014 when Modi became prime minister.
A former union home minister who dealt with Kashmir, P. Chidambaram, has a similar story to tell, "The number of infiltrators and number of local recruits have been on the rise since 2015. I am implacably opposed to the muscular, militaristic and maximalist position of the BJP-led central government that has also victimised the people." Recruits rose from 16 in 2013 to 164 in 2018, he said. Why? Few care to answer.
Violence and terror are condemnable. But repression is not the answer. The solution lies in addressing the roots of the problem. That was done by Harinder Baweja, who followed developments in Kashmir since the outbreak of militancy. She wrote on Feb 21, "If the number of locals joining militancy began to steeply rise, it was because they appeared fed up with Delhi's unwillingness to accept the very political nature of the Kashmir problem."
It is a measure of the BJP's abject defeat that the men who were driven to join the BJP hid their faces from the cameras. They know what the people think of such acts and decided to hide their faces. A photograph published on the front page of a leading daily revealed nearly 100 of them leaning on one another's back to avoid exposure. In Kashmir, more than the reportage in words, it is a reportage in photographs that reveals the whole truth - as well as the women who crowd at windows mourning at the funerals of those killed pass by.
Writer is a veteran Indian lawyer, author and commentator. This column was first published in Dawn.