Army: U.S. endangers security of its forces by naming IRGC terrorist'
April 13, 2019 - 8:33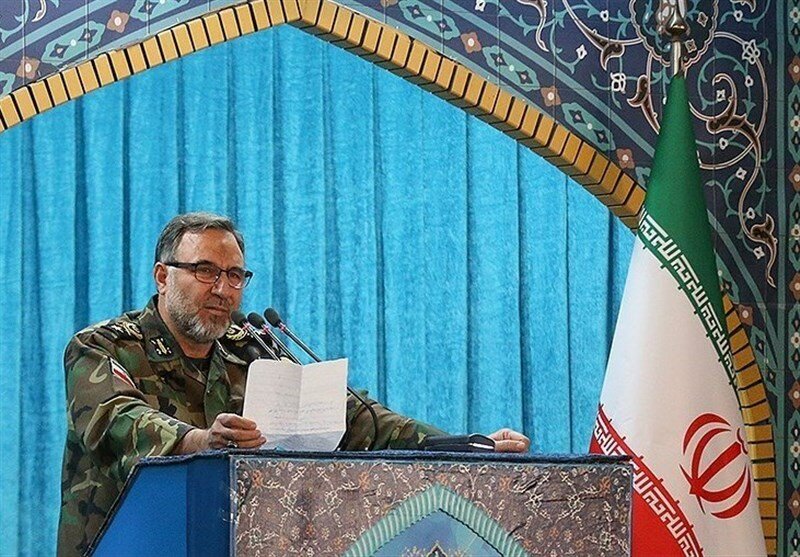 TEHRAN - Commander of Iran's Army Ground Forces Brigadier General Kioumars Heydari said on Friday that the White House has endangered security of its forces, especially the United States Central Command (CENTCOM), by designating the Islamic Revolution Guard Corps (IRGC) as a terrorist organization.
During a speech addressing worshippers in Tehran, Heydari said, "Army and the Guards are hand in hand… and American must know that they put the security of their forces, especially CENTCOM, in danger forever."
The commander said coordination and integrity between the Army and the IRGC have angered the enemies, adding the "enemy resorts to every ploy to weaken our defense structure and create division but it is making a mistake."
He described the United States, Israel and certain Arab countries as "stupid" for branding the IRGC as terrorist.

"I should say that you committed the stupidest thing by this act."
U.S. President Donald Trump labeled the IRGC as a foreign terrorist organization on Monday.
Iranian Foreign Minister Mohammad Javad Zarif said the decision was an "election gift" to Israeli Prime Minister Benjamin Netanyahu.
Bahrain and Saudi Arabia welcomed the move by Trump.
Immediately after the announcement, the Iranian Supreme National Security Council named the CENTCOM a terrorist organization, and the U.S. government a sponsor of terror.
President Hassan Rouhani said on Wednesday that the U.S. is aware of the consequences if it takes more steps than "slogans" against the IRGC.
During a cabinet meeting, Rouhani said, "Prime minister of the Zionist regime of Israel has said clearly that the U.S. action has been taken upon their [the Israelis'] request. All the U.S. crimes and illegal actions have been in line with helping one person in the occupied lands to gain victory in election."
He again called for national unity against plots.
NA/PA