By Ruhollah Ghasemian
After another deadly attack, Pakistani Hazara community demands security
April 14, 2019 - 12:10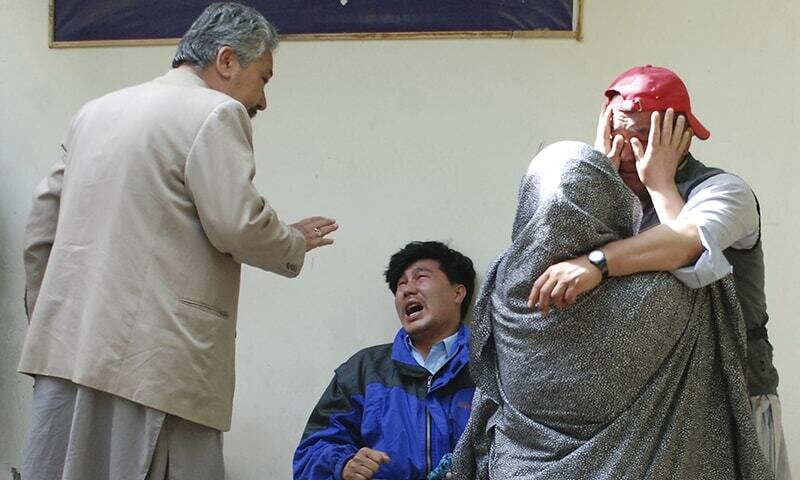 TEHRAN - The persecution of minority ethnic Hazara community continues in Pakistan with another heinous attack claiming many precious lives, including women and children.
As a mark of protest, the members of the community continued their sit-in for a second day on Saturday in Quetta city, demanding better security and adequate measures to protect them from attacks.
More than 20 people were killed and scores of others injured in a massive blast that ripped through a crowded market in Quetta's Hazarganji on Friday morning.
According to locals, the attack was targeted against the Hazara community as the area is heavily populated by the members of the minority community.
Protestors staging the sit-in include women and children who demand that the Imran Khan government implements an effective security plan and ensures protection of the community.
Hazara rights activist Jalila Haider took to Twitter to announce that they would protest outside Quetta Press Club against the persecution and would march towards Islamabad if needed.
No group immediately claimed responsibility for the attack but according to sources it could be the handiwork of Lashkar e Jhangvi (LeJ), which has carried out attacks against Hazaras in the past as well.
Interestingly, the latest attack came two days after authorities released Ramzan Mengal, a senior leader of LeJ, according to reports.
Mengal had been detained for three months under maintenance of public order regulations.
The LeJ operates in close coordination with al Qaeda and ISIS in Pakistan and has regularly claimed responsibility for attacks in Balochistan, mainly targeting Shias, whom it refers to as 'heretics'.
In 2013, three deadly bombings killed more than 200 people in Hazara populated areas in Quetta, sparking worldwide outrage. But, locals claim that despite the threats, security agencies have failed to provide them adequate security.
"Targeted for their religion by sectarian armed groups, (Hazaras) have suffered many such tragedies over several years. Each time there are promises that more will be done to protect them, and each time those promises have failed to materialize," Omar Waraich, an official of Amnesty International, said in a statement.
"Prime Minister Imran Khan's government has made important commitments to protect all religious groups. Those commitments must translate now into policies to effectively protect the Hazaras of Quetta, ending more than a decade of bloodshed."
PM Khan condemned "the terrorist attack" and sought "an immediate inquiry and increased security for the [targeted] people".
Pakistan President Dr Arif Alvi termed it a "heinous act of terrorism which is a reminder for us as nation that few remnants of this menace are still left to be eliminated totally."
Baluchistan is the focus of ambitious $57-billion China Pakistan Economic Corridor (CPEC), a transport and energy project between China and Pakistan.
The latest attack came after a lull of at least a year in violence against the mainly Shi'ite Hazara minority in the province, though there have been intermittent cases of shootings and targeted attacks.
Hazara Shias are among the few races whose origin remains shrouded in mystery. There are multiple theories about their origin. Some anthropologists trace their ancestry to Turko Mongols.
They are mainly based in Pakistan and Afghanistan and have faced violence and persecution in both the countries. Hazaras in Afghanistan have faced attacks from both the Taliban and ISIS.