By Syed Zafar Mehdi
Scholars, students gather in Qom for Mahdism conference
April 20, 2019 - 18:52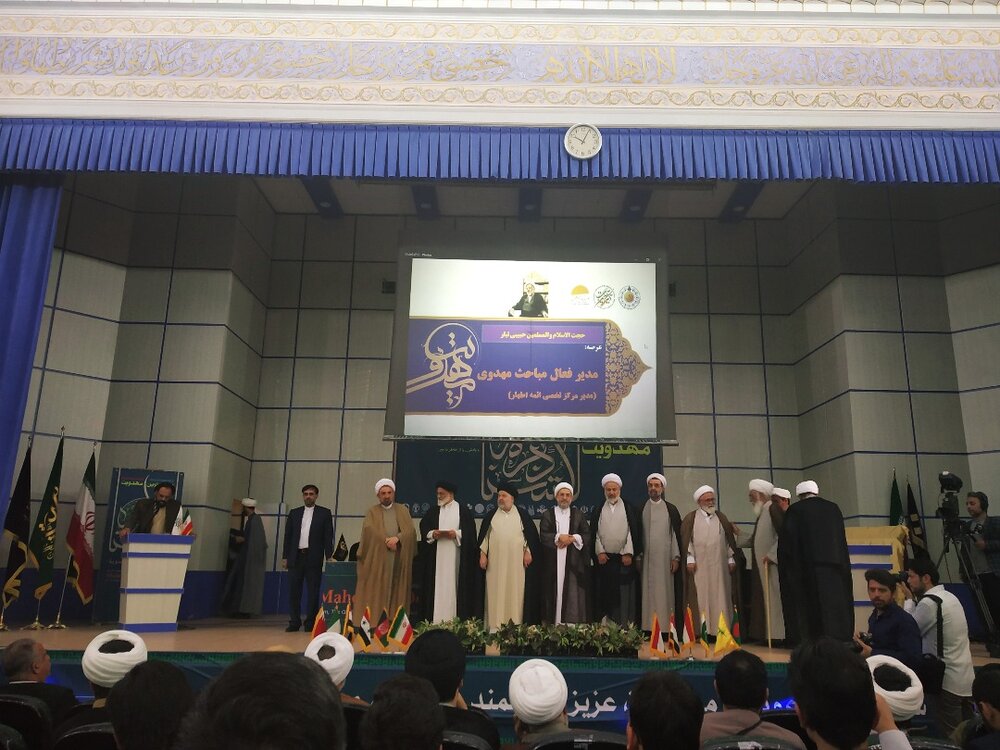 QOM - The two-day 15th International Conference on the Mahdaviat Doctrine kicked off in Qom on Thursday with many eminent personalities from various fields in attendance.
The conference, organized by Bright Future Institute, has become a permanent fixture on the national and international calender. It brings together scholars and researchers in the field of Mahdaviat from various parts of the world.
On day one of the conference, senior cleric and secretary general of the World Forum for Proximity of Islamic Schools of Thought, Ayatollah Mohsen Araki was the chief guest. In his presidential address, he spoke on the contemporary challenges facing the Muslim world and the significance of Mahdaviat doctrine.
Many scholars, researchers and authors working in the field of Mahdaviat, who have contributed to the revolutionary discourse of messianism and raised awareness about the importance of preparing the ground for the messiah were felicitated on the occasion.
Many research papers on different aspects of Mahdaviat were also presented during the conference by Iranian and non-Iranian scholars, with interesting anecdotes, profound philosophy and references to holy scriptures.
Speaking on the occasion, the head of Bright Future Institute Hojatul Islam Syed Masood Porseed Aqayi threw light on the illuminating philosophy of Mahdaviat, the objective of the annual conference and the work his institute has done in the field.
Students from many Iranian universites including Al-Mustafa University, Imam Sadiq University, Ahlulbayt International University, Allamah Tabataba'i University, and Tehran University attended the conference.
"The doctrine of Mahdaviat is very fascinating for Muslim youth as it deals with the future and our responsibility to prepare the ground for the messiah and savior," said Labaran Yahya, a student of history at Ahlulbayt International University, who belongs to Nigeria.
"What is most striking about this doctrine is that it teaches us that merely waiting for the messiah isn't enough, and it's important to strive individually and collectively for Imam Mahdi's reappearance and establishment of a system based on truth and justice," said Mohammad Ali, a student of economics at Imam Sadiq University.
The concept of Mahdaviat, in the Islamic context, is based on an eschatological figure that is expected to rise and establish a state built on the foundations of truth, justice, social order and peace.
In Iran, the doctrine is deeply entrenched in the popular politico-religious discourse.