Tehran sees longest streak of clean air in a decade
April 22, 2019 - 1:4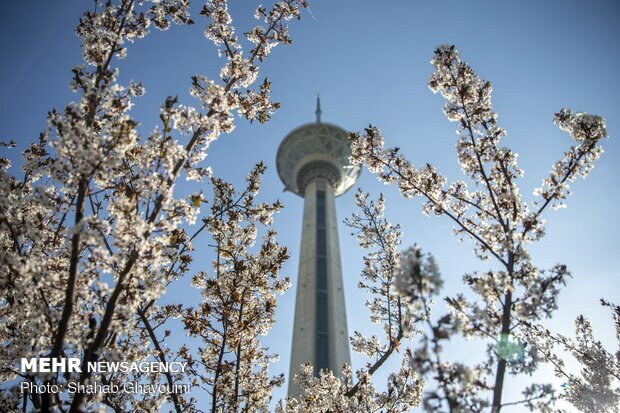 TEHRAN — Tehran has just experienced its longest streak of clear air for the past decade, acting director of Tehran Air Quality Control Company has said.
During the first Iranian calendar month of Farvardin (March 21-April 20) Tehran air measured by air quality index (AQI) indicated 21 days of excellent air quality and 10 days of good air quality which is unprecedented over the past 10 years, Hossein Shahidzadeh highlighted.
AQI is used to communicate to the public how polluted the air currently is or how polluted it is forecast to become. The index categorizes conditions according to a measure of polluting matters into excellent (0-50), good (51-100), lightly polluted or unhealthy for sensitive groups (101-150), moderately polluted (151-200), heavily polluted (201-300) and severely polluted (301-500).
Owing to the spring downpours now many deserts surrounding Tehran are covered in vegetation and they have stopped sand and dust particles from forming, Mehr news agency quoted Shahidzadeh as saying on Saturday.
Data released on National Drought Warning and Monitoring Center website on Sunday shows that Tehran has received 308.5 millimeters of rain since the beginning of the current water year (September 23, 2018) which reveals a 139 percent rise compared to last water year.
Moreover the amount indicates a 46.8 percent increase compared to long-term mean.
Shahidzadeh went on to say that in addition to recent rainfalls the Low Emission Zone (LEZ) scheme which is underway in the capital has played a significant role in cutting air pollution in Tehran.
LEZ scheme, mandating vehicle inspection to reduce emissions went into effect in the capital in the beginning of autumn.
LEZ is a defined area where access by certain polluting vehicles is restricted or deterred with the aim of improving the air quality. This may favor vehicles such as hybrid electric vehicles, or zero-emission vehicles such as all-electric vehicles. To bring LEZ scheme into effect all the vehicles in Tehran are required to get inspection stickers indicating the level of emission they produce which are easy to track down by the traffic cameras.
MQ/MG