Persian legends illustrator Ali-Akbar Sadeqi receives lifetime achievement honor at Fajr
April 23, 2019 - 18:29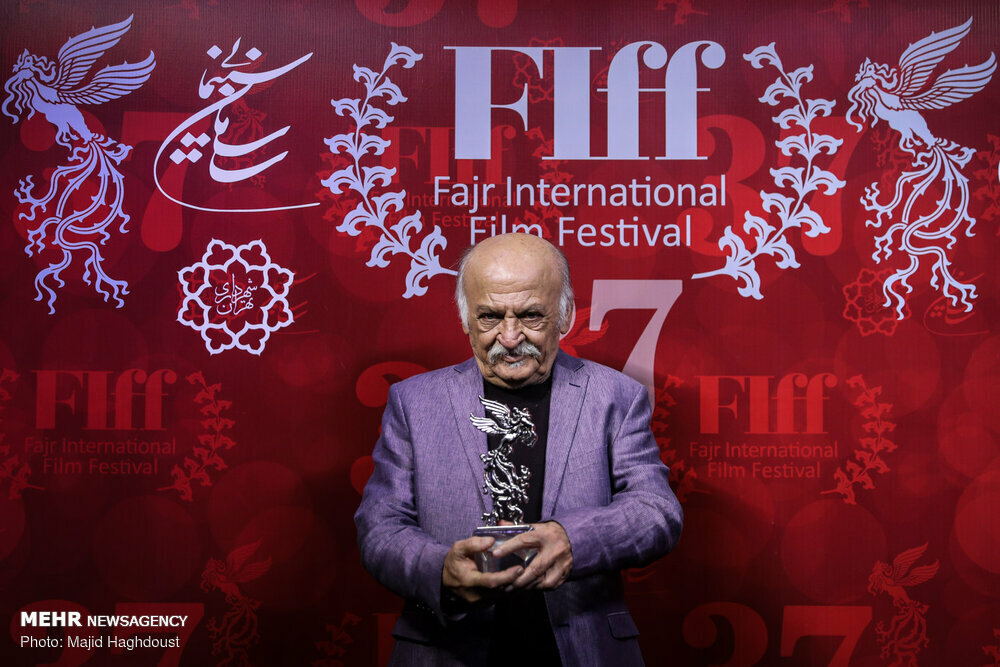 TEHRAN – Ali-Akbar Sadeqi, a veteran artist who is famous for his illustrations and animated movies on Persian legends, was honored with a lifetime achievement award at the 37th Fajr International Film Festival on Monday.
He received the award from the director of the festival, Reza Mirkarimi, during a special ceremony held at Tehran's Charsu Cineplex.
"I never learned how to work with a cellphone and a computer because I didn't want to waste my time with them," 82-year-old Sadeqi said after accepting his award.
"I have taught art two times and also worked as a supervisor for students because I feel it is our duty to help the youth," he added.
Restored versions of Sadeqi's animated movies, including "Zal and Simorgh", "Seven Cities" and "Malek Khorshid", were screened during the festival.
"In his long brilliant career, Sadeqi succeeded in making himself the true inheritor of Persian legendary art and this was fulfilled by his great prominence," said renowned painter Aidin Aghdashlu who is also a close friend of Sadeqi.
"His art has its roots in the epics of the Shahnameh, and I don't know anybody else except him who could have protected this heritage and he so richly deserves this position," he added.
Actress Fatemeh Motamed-Aria and graphic designer Ebrahim Haqiqi also made comments on Sadeqi.
"With his artworks, Mr. Sadeqi taught us that it was possible to maintain the inner child forever and at the same time to discuss major issues," Motamed-Aria said.
Haqiqi said, "Sadeqi was a graphic art theater for me," and added, "Among all the demons he painted, he never forgot to draw sweethearts and heroes who are talking about love, which brings his associates' love of him."
Photo: Animator Ali-Akbar Sadeqi holds a Silver Simorgh after being honored for his lifetime achievements during the 37th Fajr International Film Festival at Tehran's Charsu Cineplex on April 22, 2019. (Mehr/Majid Haqdoost)
MMS/YAW