INSTEX is like a beautiful car without gasoline, Iran envoy says
June 30, 2019 - 19:42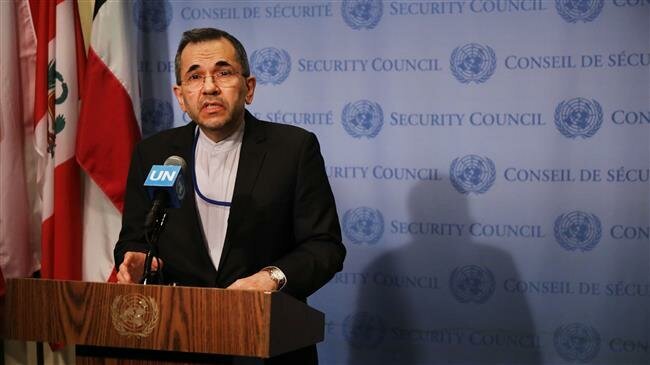 TEHRAN - Majid Takht Ravanchi, Iran's permanent representative to the United Nations, on Saturday likened INSTEX to a "beautiful car without gasoline".
INSTEX – the Instrument in Support of Trade Exchanges - is a European special purpose vehicle aimed at facilitating legitimate trade between Europe and Iran.
"The current situation of INSTEX does not suffice. This mechanism without money is like a beautiful car without gasoline," Takht Ravanchi told reporters.
On Friday, the remaining signatories of the nuclear agreement met in the Austrian capital as a last-ditch effort to save the accord after the U.S. withdrew last year.
They announced in a statement that the European Union mechanism for trade with Iran is up and running.
"France, Germany and the United Kingdom informed participants that INSTEX had been made operational and available to all EU member states and that the first transactions are being processed," reads an excerpt of the statement published on the official website of the EU.
Takht Ravanchi said, "We cannot wait more. We do not threaten anyone and we do not set deadline. We have told them that we will reduce our commitments if they do not take any action. We will take new actions if they refuse to fulfil their commitments."
On May 8, Iran announced a partial withdrawal from some aspects of the nuclear pact, saying that the country would no longer adhere to some of the limits on its nuclear activities. It also threatened to step up uranium enrichment if an agreement is not made within 60 days to protect it from the sanctions' effects. The deadline ends on July 7.
In line with Tehran's decision to scale back its commitments under the nuclear deal in protest to reimposition of sanctions by the United States, the Atomic Energy Organization of Iran (AEOI) announced on June 17 that Iran's stockpile of enriched uranium will exceed 300 kilograms by June 27.
U.S. President Donald Trump withdrew Washington in May 2018 from the multilateral nuclear accord, officially known as the Joint Comprehensive Plan of Action (JCPOA), which was reached between Iran and six world powers in 2015.
Afterwards, Washington re-imposed unilateral sanctions on Iran that had been lifted under the deal.
'Iran has never sought atomic bomb'
Takht Ravanchi also said that Iran has never been seeking to build atomic bomb.
Noting that nuclear weapons does not bring security, the diplomat said, "The Zionist regime of Israel has had atomic bomb for many years. Atomic bomb does not bring security."
He insisted on Tehran's long-held position that Iran will not move towards building a nuclear bomb, but will not stop scientific studies.
NA/PA