Ayatollah Yazdi passes away
December 9, 2020 - 12:19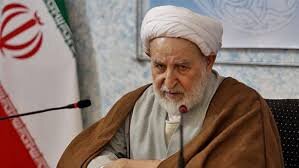 TEHRAN – Ayatollah Mohammad Yazdi, a member of the Assembly of Experts and chief of the Association of Qom Seminary Teachers, passed away on Wednesday.
Yazdi, 89, also headed the Judiciary from 1989-1999.
He was elected as chief of the Assembly of Expert in March 2014 for a year. Yazdi was competing with Akbar Hashemi Rafsanjani for the post. He garnered 47 votes out of 73.
Born in Isfahan in July 1931, Ayatollah Yazdi served in different positions. He represented Tehran province in the Assembly of Experts in the second, third and fourth terms.
Assembly of Experts are held every eight years.
Ayatollah Yazdi also served as a legislator in the first and second parliaments.
In June 1988, Imam Khomeini appointed him as a member of the oversight Guardian Council. Also in a decree by the Leader of the Islamic Revolution in July 2013, Yazi was reinstated in his position as a jurist in the Council.
After serving in the Guardian Council for 25 years, he finally resigned on November 1 due to deteriorating health.
PA/PA